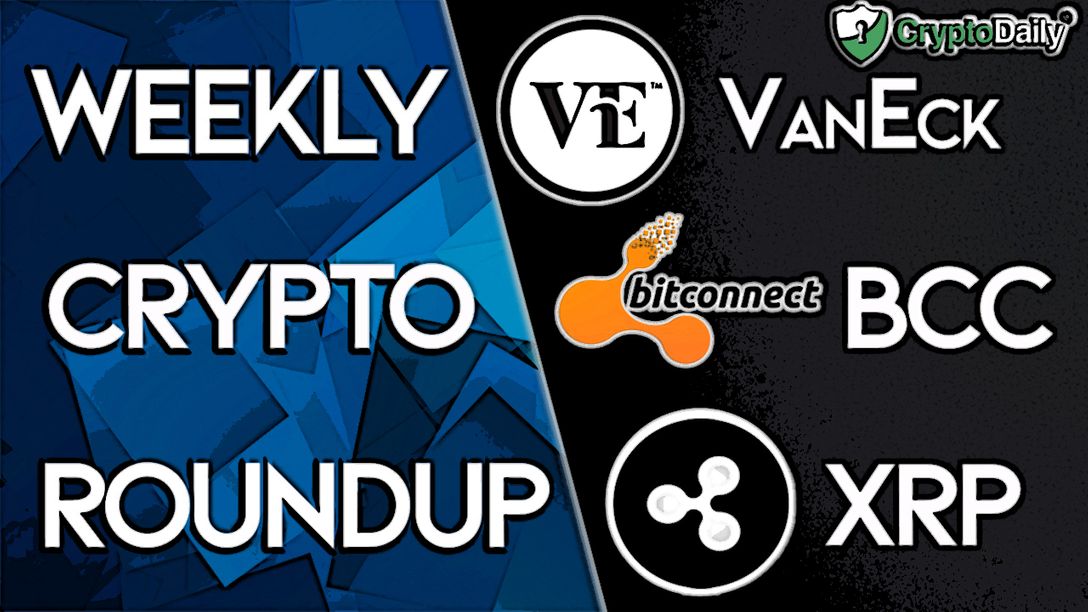 Yet another exciting batch of fresh news stories straight out of the crypto space for this week. Over the past five days, we've seen the Securities and Exchange Commission (SEC) unable to come to a decision on the VanEck ETF and therefore delaying it. We also saw the infamous Bitconnect making what seems to be a comeback and Ripple adoption keeps on getting pushed by big banking institutions.
Bitconnect
Now you may remember a certain crypto project that went bust nearly straight after it was making waves throughout the space, Bitconnect.
In case you don't know, Bitconnect is now one of crypto's most infamous pyramid schemes and was a hot topic for discussion after the hilarious 'press conference' earlier in 2018. Media outlets were quick to slam the cryptocurrency as well as memes being made overnight of the ringleader of the project, Carlos Matos. Even the popular YouTuber PewDiePie made a video dedicated to the man himself which has now got nearly 6 million views.
The now-defunct crypto project has since announced its return from what was a lot of controversy at the time.
This time, the project will be going under the name Bitconnect 2.0 and it will launch on 1st June according it's Twitter page.
"Welcome everyone back to Bitconnect 2.0
We will launch Bitconnect2.0 on July 1st
Visit our website for more Infoshttps://t.co/xKJ10yeYoP"
The Tweet has actually since been deleted though so who knows what the future holds for Bitconnect.
Bitconnect initially came into existence in 2016 to offer loans to lenders in return for interest. The platform exchange BCC for Bitcoin which lenders were asked to lock the amount for a period for a daily calculated interest of 0.25 percent.
On the companies website, the process was described as:
"You can invest BitConnect coin in Bitconnect lending platform exclusively from the BitConnect Dashboard. This investment option involves profiting from Bitconnect trading bot and volatility software. You will receive daily profit based on your investment option. Upon investment term completion, you will receive your CAPITAL BACK to take out from the Bitconnect lending platform or optionally reinvest back in lending platform to continue receiving daily profit."
Ripple & Banks
Now Ripple has been making waves a lot in terms of adoption over the past year or so. The founder of Gokhshtein magazine, David Gokhshtein is a very big supporter of Ripple's XRP token and believes that the tokens parent company is in the perfect place to infiltrate the international financial system.
It seems that across the world, banks are starting to think about the potential that cryptocurrencies could bring them.
According to Gokhshtein, when these banks start to actually get stuck in with crypto, they're going to be easier, efficient and much more cost-effective in using the Ripple-built infrastructure.
It costs the banks less to partner up with $XRP than it does for banks to create their own #crypto.

— David Gokhshtein (@davidgokhshtein) May 19, 2019
The founder has advised his followers that banks and other big financial giants will not allow themselves to become obsolete. In fact, he said that the more powerful companies will get used to the current financial season, leaving crypto to become a hot topic soon enough.
"Bottom line: banks aren't going to fade out. they will always find a way to adapt to the current environment. That being said; @ripple has the perfect system in place for them and that's why most of them are teaming with them."
VanEck Delayed
This week saw the SEC make a decision on the VanEck Bitcoin ETF and as many people had expected, the proposal was delayed so that the commission could review more information on the ETF before they make a final decision.
The official filing by the SEC was published earlier this week and it says that they need more information on the rule change before making a decision. The commission has further inquired info on the ETF and stated that there are 25 comments lined-up on the proposed rule change.
"On January 30, 2019, Cboe BZX Exchange, Inc. […] filed with the Securities and Exchange Commission, […] a proposed rule change to list and trade shares of SolidX Bitcoin Shares issued by the VanEck SolidX Bitcoin Trust […] The proposed rule change was published for comment in the Federal Register on February 20, 2019."
The VanEck SolidX #Bitcoin #ETF decision has been postponed by the SEC. We continue the hard work towards better-regulated, safer and more liquid digital assets markets. Bitcoin is too big to ignore. Vires in numeris! Public document and timelines: https://t.co/F9cV95CHKN pic.twitter.com/hgyhVE0nJr

— Gabor Gurbacs (@gaborgurbacs) May 20, 2019
Usually, when the SEC delay an ETF the market takes a hit but nothing seems to have happened much this time. The agency has postponed its ETF decision until 30th September, so it will be interesting to see how the market reacts then.