Ethereum Classic (ETC) is down more than 87% from its all-time high. The recent rally has got a lot of traders excited about the next bull run but the weekly chart for ETC/USD shows that the price is not out of the woods yet. In fact, the rejection that ETC/USD faced at the 21 week EMA has now seen the price decline sharply. If the price ends up closing the week below this level, we might have a strong signal for further downside. The Stochastic RSI for ETC/USD on the weekly time frame has never been this overbought since the beginning of the bear market. This is very alarming and speaks volumes about what is to follow next. Certainly, the cryptocurrency has a lot of potential for long term growth but it is due for further downside short term.
Value investors that are strong believers in the long term potential of Ethereum Classic (ETC) might find this a good opportunity to start accumulating Ethereum Classic (ETC) for long term. However, the fact remains that the price is highly likely to see further downside and we might see it decline towards the December, 2018 lows even if it does not end up falling further. For most in this space, this is the first time they are following any bear market much less a cryptocurrency bear market. While we expect further downside short term, it is important to understand that the price has already seen more than a 95% correction and it couldn't possibly fall 100% to go to zero. So, even if the price falls further, it has a lot more room to go up than it has room to go down.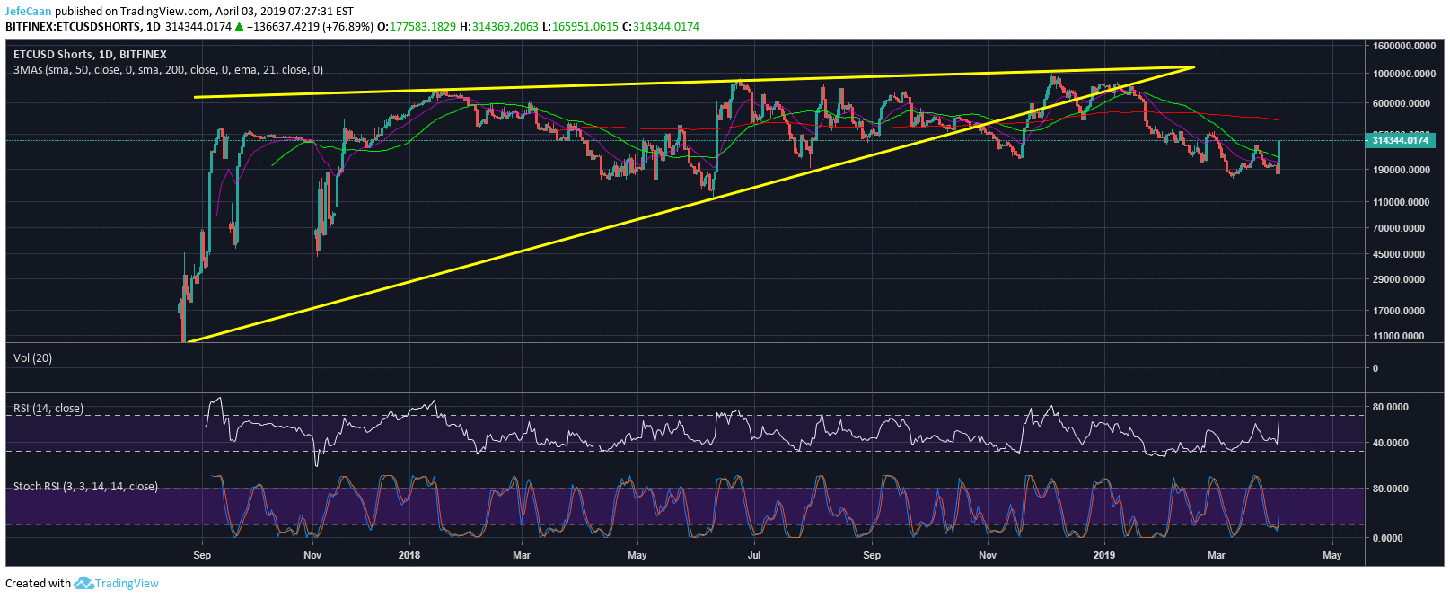 The daily chart for ETCUSDShorts shows that the number of margined shorts for Ethereum Classic (ETC) has shot up again. Traders are always very eager to short Ethereum Classic (ETC) despite it being quite an undervalued cryptocurrency. If ETCUSDShorts closes the day above the 50 day moving average, we will see it rise further towards the 200 day moving average. During this time, ETC/USD will see further sell pressure and the price might decline significantly. Talking about further decline in Ethereum Classic (ETC) it is important to note that the market cap difference between Ethereum Classic (ETC) and Ethereum (ETH) is now almost 30 times! This is a big difference compared to the difference between Bitcoin (BTC) and Bitcoin Cash (BCH) which is less than 4 times.
Ethereum Classic (ETC) continues to remain a promising blockchain project despite the recent setbacks. The blockchain has seen significant growth under the leadership of ETC Labs and we expect it to see explosive growth during the next bullish cycle which will reflect in its price. The number of Dapps built on the blockchain is also expected to rise and partnerships with big tech corporations in the IOT (Internet of Things) arena are also expected in the near future.