Ethereum (ETH) has plenty of room to rally now that the price has broken past $170 and is busy consolidating. If the price keeps on consolidating in this manner, the bulls might have a chance to push for another rally before the weekly close. The Crypto Fear and Greed Index is at 64 today, up three points from yesterday. The index was at 74 points around the peak of bullish sentiment. This means that investors are still way too bullish and we are far from the market inflicting maximum pain yet. That being said, this bullish sentiment could result in one last push to the upside which could see ETH/USD rally towards $180. The bears are still confused and not fully prepared to take control. The bulls are also having mixed thoughts as most retail traders now expect the price to fall at some point.
The manner in which the price of Ethereum (ETH) has pumped these past few weeks is not sustainable. Rallies that have consistent higher highs and higher lows are more sustainable compare to those that see a big pump to the upside, followed by consolidation and then another pump to the upside. Most of the time, it ends with the price declining in the same manner in which it had pumped. The price of Ethereum (ETH) has now been overbought for weeks on the weekly time frame. We are long overdue for a strong move to the downside that could see ETH/USD reach its true bottom in the months ahead. The reason the cryptocurrency market has been stalling this move for so long is because of uncertainty in the stock market. We saw ETH/USD decline in November, 2018 along with the S&P 500 and we expect the same to happen this time.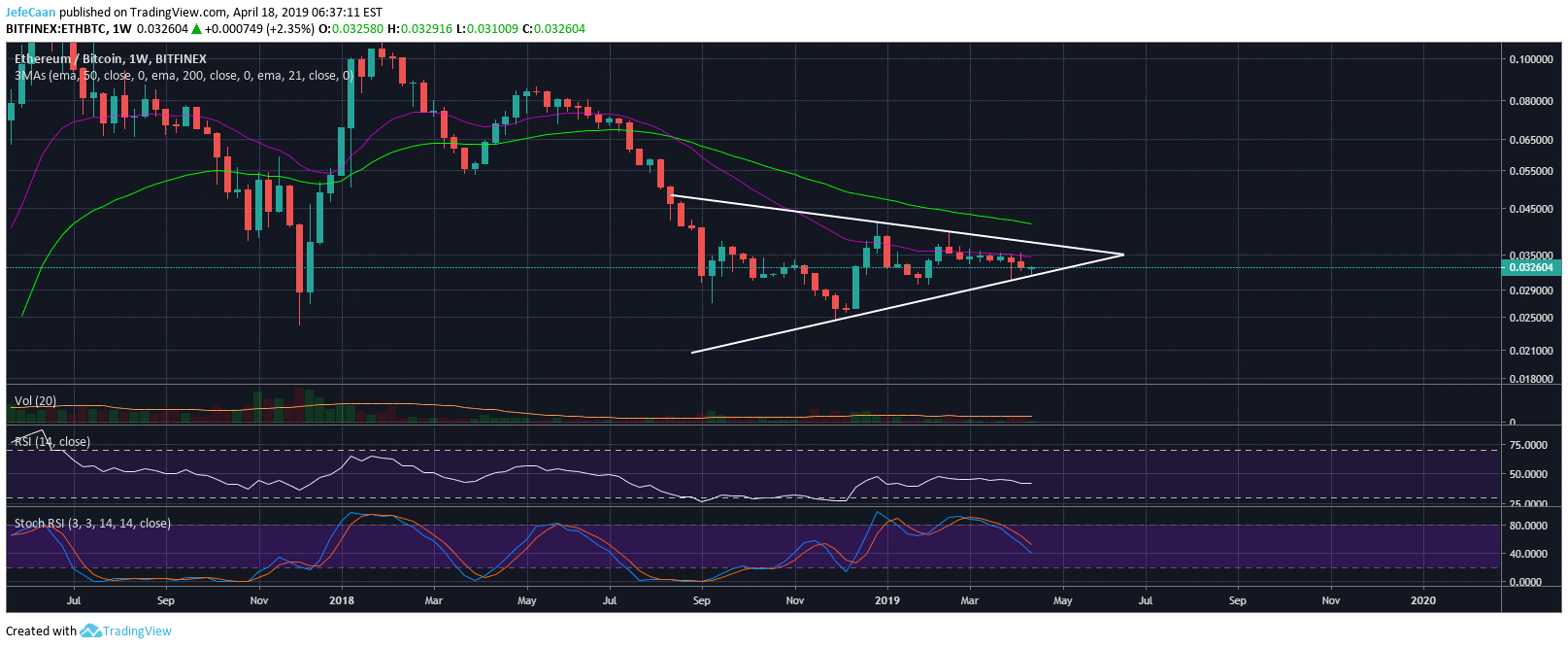 The weekly chart for ETH/BTC shows that Ethereum (ETH) also has plenty of room for correction against Bitcoin (BTC). If the cryptocurrency market crashes again in the near future like we expect it to, we might see Ethereum (ETH) lose heavily against Bitcoin (BTC). The price is already trading below the 21 week EMA and it will not be difficult to break the symmetrical triangle to the downside should Bitcoin (BTC) start to decline again. This symmetrical triangle is more importantly a bearish pennant which might breakout falsely to the upside first but it is very likely to result in further downside eventually.
Bearish pennants are usually strong indicators of bearish continuation. So, if the price breaks out falsely above this pennant, most professional traders would wait for a fall back into the pennant rather than jumping on the bandwagon. If the price then ends up falling below the bearish pennant, we could see months of further downside until Ethereum (ETH) is trading at a price of $60 or lower per coin. That would be a great opportunity for Ethereum (ETH) aficionados to accumulate but by that time we may not have many left.