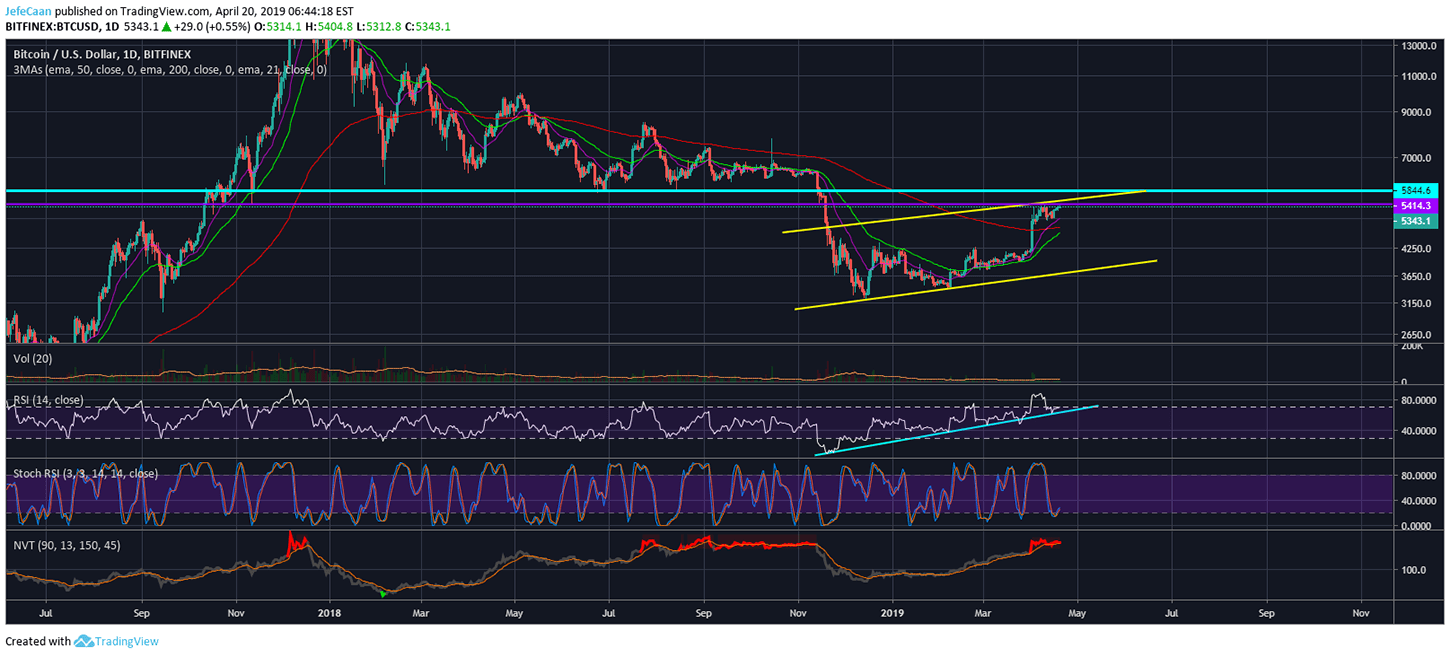 Bitcoin (BTC) is trading well above the 200 day moving average and there is the possibility of a golden cross coming to fruition if the price manages to breakout from here. However, the NVT indicator on the daily time frame now points to increasing risk of a major sell-off in the near future. This indicator has historically been very efficient at predicting sell-offs. This is because for something like Bitcoin (BTC) with arguably no intrinsic value, its perceived value depends on its use. As the Network Value to Transactions ratio reaches a certain level, we have a sell signal which may not mean that the price is going to decline immediately, but it certainly means that it has to decline eventually. This is a lot similar to the PE ratio used in the stock market and is a very efficient way to see if the price is overbought or oversold.
The daily chart for BTC/USD shows that this indicator started to flash around the end of July, 2018 signaling a major decline to come. Then it went silent for a while and started flashing again in August, 2018 after which it consistently warned of a major sell-off. Traders and analysts who had been watching this indicator would have predicted the fall below $6,000 while the rest of the market kept wondering how it happened. The price of Bitcoin (BTC) has been recovering since the last crash and it is yet to see a significant pullback that could make investors worry about a fall below $3,000. The majority still believes that the price has already bottomed out and is now ready to begin its next bullish cycle. Major financial markets across the globe tell a different story but Bitcoin (BTC) traders often concern themselves more with Bitcoin (BTC) charts as if the price of Bitcoin (BTC) is immune to changes in the stock, bond and forex markets.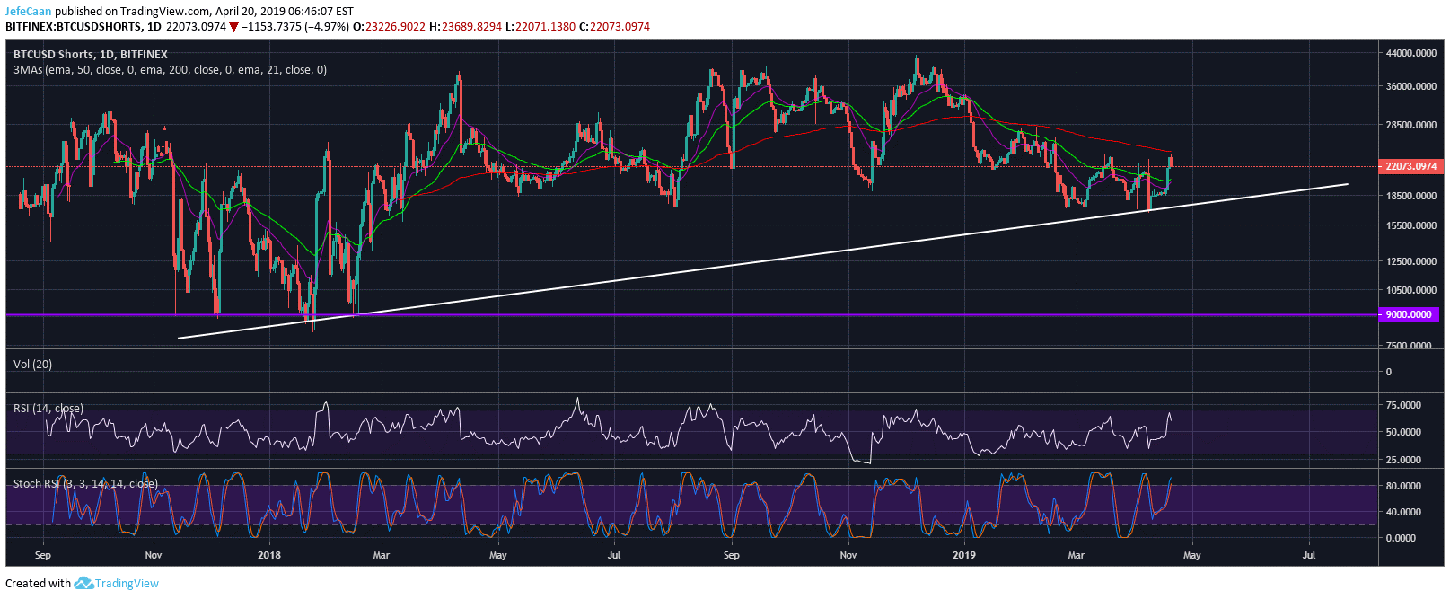 The number of margined shorts for Bitcoin (BTC) started to rise since the beginning of the month and has now become overbought on the daily time frame. The daily chart for BTCUSDShorts shows that the number of margined shorts has declined just close to testing the 200 day EMA. While BTCUSDShorts has been trading atop a strong trend line support since the beginning of 2018, it is still possible that we might see it break this support to fall to the 9,000 support level.
Bitcoin (BTC) is likely to make one last move to the upside. This move has a very high probability of being triggered by a sharp decline in sell pressure which means BTCUSDShorts could break below its trend line support to decline to the horizontal support at 9,000. Both RSI and Stochastic RSI for BTCUSDShorts are now near overbought territory which means the number of margined shorts is primed for a big fall. While the bulls might succeed in helping Bitcoin (BTC) make its last move to the upside before the next major decline, it is important to realize that this is the time to be selling Bitcoin (BTC) not buyi