Stellar (XLM) is holding strong above the 61.8% Fib retracement level. This level used that used to be a resistance has now turned into a strong support. The 4H chart for XLM/USD shows that the price has enough room to rally from here in the days ahead. Stellar (XLM) has seen the momentum shift in its favor after the recent Coinbase listing. It was well deserved for a cryptocurrency like Stellar (XLM) which is in many ways a superior technology to Ripple (XRP), the third largest coin by market cap. Stellar (XLM)'s alliance with IBM has enabled it to gain a lot of traction recently. The cryptocurrency is already making waves in the financial industry with its state of the art blockchain and low cost, speedy transactions. Stellar (XLM) has a higher probability of being more readily accepted by the crypto community compared to Ripple (XRP) as the former focuses on empowering the masses whereas the latter focuses on empowering the banks.
The entire cryptocurrency movement is about cutting dependence on the financial system that has enslaved generations after generations. If we can reduce reliance on post with email, why can't we do the same with money? Bitcoin (BTC) transactions may not be cheaper and faster but then again Bitcoin (BTC) was not created for that purpose. The purpose of Bitcoin (BTC) was to cut the double spending problem and to produce a form of money that is immune to inflation. When people realized that blockchain technology can be used for a lot more, they came up with cryptocurrencies like Ripple (XRP) and Stellar (XLM). Jed McCaleb, the CEO of Stellar (XLM) was the CTO of Ripple before he created Stellar. So, Stellar (XLM) and Ripple (XRP) are direct competitors as both are fighting for the same thing but in different ways.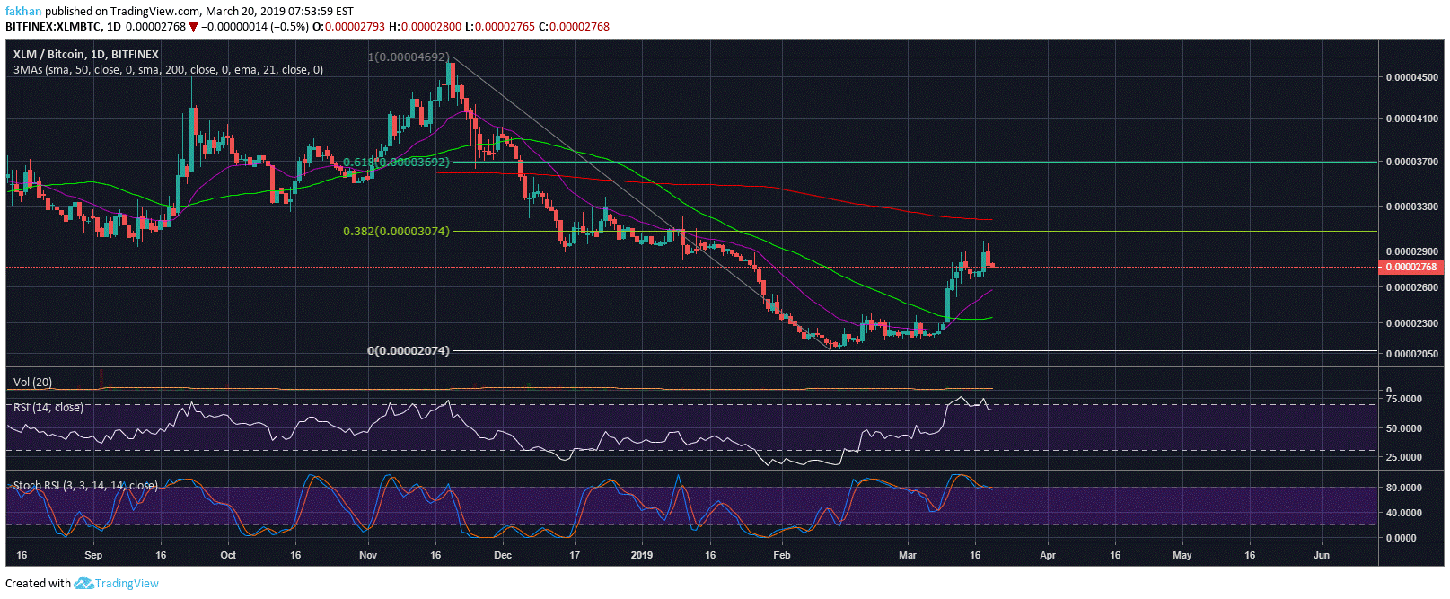 It is clear that Bitcoin Cash (BCH) and Litecoin (LTC) are better choices for online spending compared to Bitcoin (BTC). This is why most people pay with these cryptocurrencies instead of Bitcoin (BTC) to save on transaction fees and time. However, Ripple (XRP) and Stellar (XLM) are certainly a lot better than Bitcoin Cash (BCH) and Litecoin (LTC) in this regard. A lot of merchants that accept Bitcoin Cash (BCH) and Litecoin (LTC) might not have any problem accepting Stellar (XLM) even though they may have some problem with accepting Ripple (XRP) as it is seen as a bank coin or a centralized coin by a large number of people in this industry.
The daily chart for XLM/BTC shows that Stellar (XLM) still has to break past the 38.2% Fib retracement level if it is to rally further. The probability of a golden cross remains low as XLM/BTC does not seem likely to break above the 200 day moving average. That being said, it might continue to trade sideways for a while as the rest of the market catches up to it before the next decline sets in.