Stellar (XLM) has faced a strong rejection after testing the 61.8% Fibonacci retracement level that it has tested the past two weeks as well. The price failed to break past it the past few weeks and it is expected to fail once again. The Stochastic RSI on the weekly time frame points to the strong probability of an imminent decline in the weeks ahead. Even though the RSI has room for further upside because XLM/USD has remained oversold for a long time, it is important to note that the last time Stellar (XLM)'s Stochastic RSI reached these levels, the price declined sharply for the next five weeks. The least we can see this time is for the price to continue to trade sideways even if it does not end up falling back to the trend line resistance turned support.
The recent Coinbase listing has been a big deal for Stellar (XLM) and if Coinbase had listed Stellar (XLM) during a bull market, we would have seen it shoot off the charts. If a cryptocurrency like Litecoin (LTC) could rally so hard after a Coinbase listing, Stellar (XLM) would have skyrocketed because unlike Litecoin (LTC) it has a unique value proposition. Stellar (XLM) did not just come out to do what everyone else is already doing. It is not solving a temporary probably like Litecoin (LTC) because let's face it, eventually Bitcoin (BTC) with lightning network or some future upgrade is going to be able to do what Litecoin (LTC) justifies as its reason for existence. The same could be said of Ripple (XRP) as well. If the banks start issuing their own cryptocurrencies, Ripple (XRP) might lose its use case.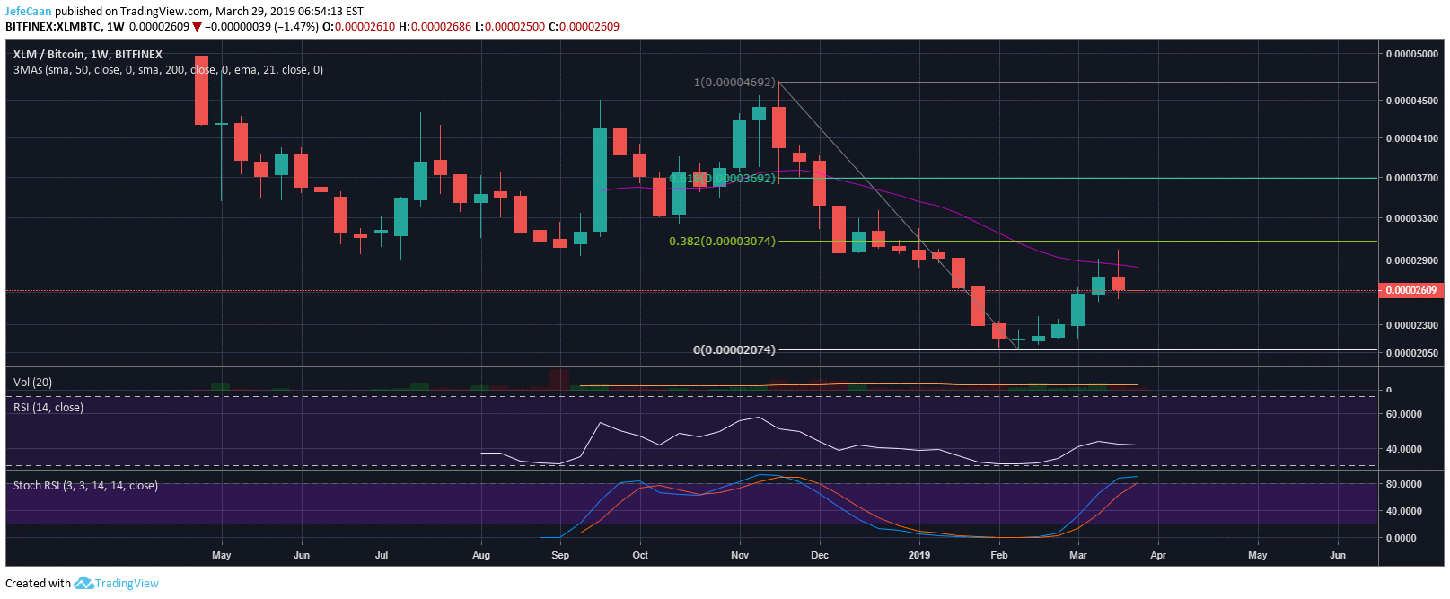 Stellar (XLM) on the other hand wants to empower the end user without there being the need for any intermediary. The cryptocurrency has a lot of potential and with the help of IBM it could find mainstream adoption a lot faster than most other cryptocurrencies as it already has a strong use case and a growing customer base. Coinbase has just made it easier for mainstream investors to start buying and using Stellar Lumens (XLM). However, it is important to keep expectations in check at this point as the price might see further downside short term even though it has a very promising outlook long term.
The weekly chart for XLM/BTC shows that there might be plenty of room for further downside as the price has failed to close above the 21 week exponential moving average in the past few weeks. This means that Stellar (XLM) might still be weeks or months away from its true bottom and investors might be able to accumulate Stellar Lumens (XLM) at better prices. Stellar Lumens (XLM) is not only a good hedge against Bitcoin (BTC) and other cryptocurrencies from an adoption standpoint, it is also a good hedge against Ripple (XRP) because it empowers end users instead of relying on middlemen like banks and financial institutions.