Ethereum (ETH) is consolidating above the 50 day moving average as it struggles to break past the 38.2% fib extension level. This breakout would push ETH/USD towards the 200 day moving average with a wick to $163 for a retest of the previous resistance. We would expect ETH/USD to close below the 200 day moving average as trading conditions on longer time frames are still not favorable for a sustained breakout to the upside. We could see a day or two of rallies which would push Ethereum (ETH) towards the 200 day moving average but the price is extremely unlikely to rise past the 200 day MA. This is because the temporary relief that we see in the market is actually a precursor to the next major decline that is yet to come.
The bear market has seen more competitors challenge Ethereum (ETH)'s dominance. Cryptocurrencies like Cardano (ADA), Tron (TRX) and Zilliqa (ZIL) now threaten Ethereum (ETH)'s monopoly. Justin Sun, the CEO of Tron (TRX) recently said that he will build a monument in memory of Ethereum (ETH). Other industry leaders like Charles Hoskinson of Cardano (ADA) have also been a strong critic of Ethereum (ETH) and Vitalik Buterin. In other words, Ethereum (ETH) has had its time. We might still see the price rise to a new all-time high but the explosive growth that we saw during the last bull run may not be seen ever again as Ethereum (ETH) loses its monopoly to aggressive competitors. Ethereum browser, Mist has also recently shut down. Ethereum (ETH) was the first of its kind but it does not have to be the best long term and investors know that.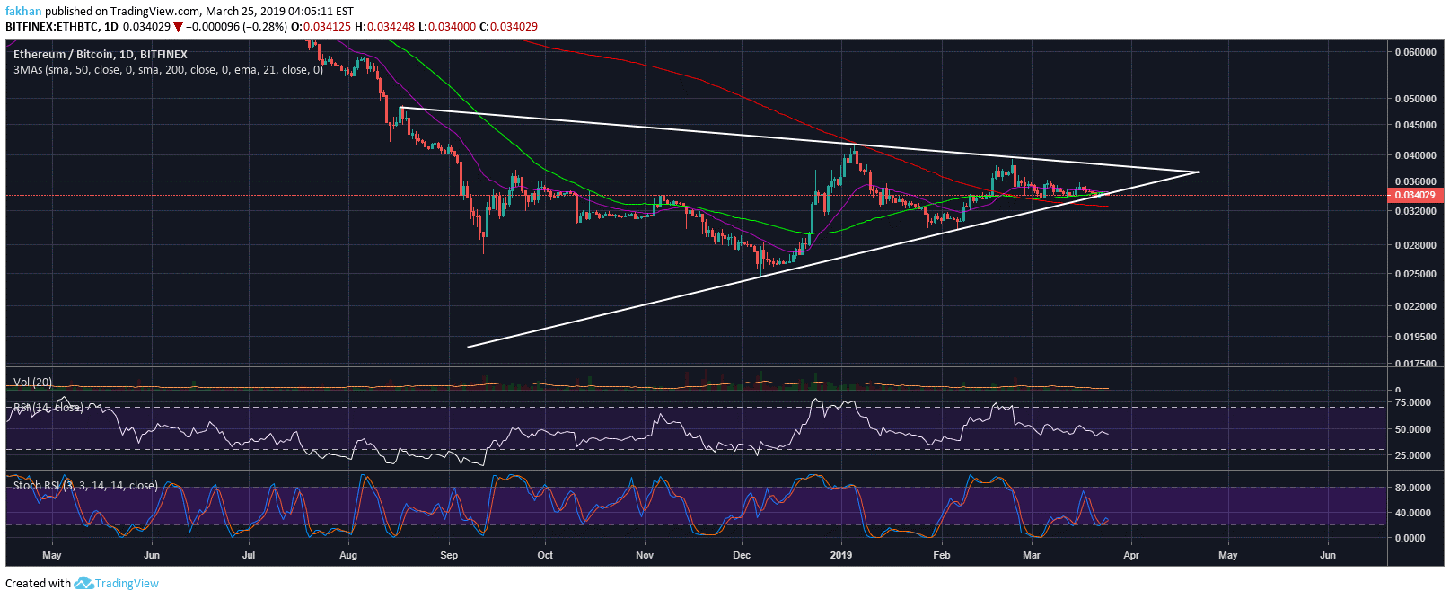 Institutional investors who are preparing to get into cryptocurrencies might still prefer to hold Ethereum (ETH) due to its ease of storage and high liquidity but retail traders who are in it for quick profits before they move to the next coin are more likely to back coins like Zilliqa (ZIL) and Qtum (QTUM) for higher gains compared to Ethereum (ETH). As the next bullish cycle begins, we will see projects like Cosmos gain traction to become what Zilliqa (ZIL) or Qtum (QTUM) have been at the peak of the previous hype cycle. In markets like these, investors are quick to move to the next big thing soon as they cash out.
The daily chart for ETH/BTC shows that Ethereum (ETH) recently saw a golden cross when the 50 day moving average crossed above the 200 day moving average. In a bull market, this would have translated into a major spike to the upside but as we can see nothing significant happened this time. That being said, the price has retraced to the bottom of the symmetrical triangle and is expected to shoot up as early as this week. The probability of a strong break out above the symmetrical triangle remains low as trading conditions on the weekly time frame signal further downside in the weeks ahead.