Ethereum (ETH) has just broken above a critical resistance that it had been constantly testing for the past few weeks. This is the $144.23 level which initially served as a temporary support around mid-February but soon turned into a strong resistance when the price broke below it. The price has tested it ever since but had failed to break past it so far. This time, ETH/USD has successfully broken above this level and the bulls are calling for a rally towards $170. Now, the reason most amateur traders in this market say technical analysis does not work is because they look at charts as simple support and resistance lines. The professional traders on the other hand look at the meaning and the intent behind each of these lines which is why they succeed so often and give retail traders a run for their money every single time.
Looking at the daily chart for ETH/USD, it is clear to see that the price has broken above a critical resistance but there are a lot of reasons not to get too excited just yet. First of all, the price has broken above the critical resistance but not close above it. Please note that this resistance coincides with the 38.2% Fib extension level which makes it a lot more important. So, if the price closes below $144.23, we may see a series of pullbacks from next week onwards. We have been talking about a move to the upside before the final corrective wave in our previous analyses and this time we have finally seen that move. If the price closes the week near current levels, we might see the fifth and final correctional wave begin from next week onwards which would most likely pull ETH/USD to $80 or lower.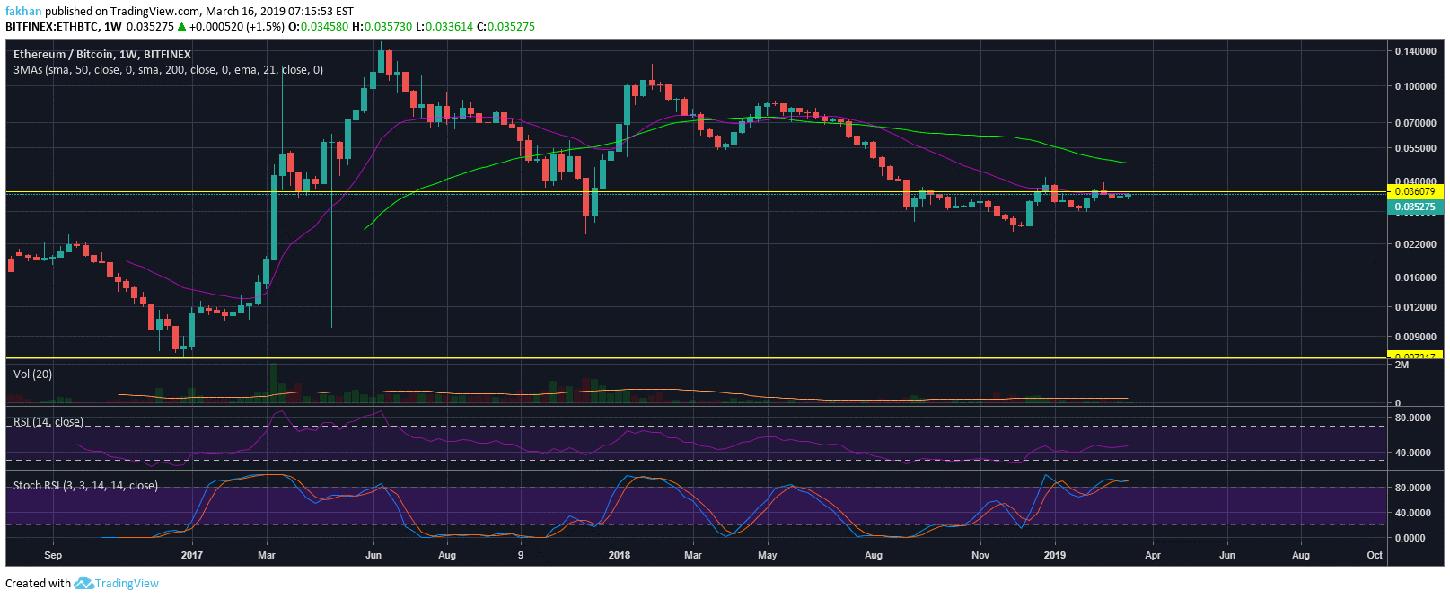 The near term outlook of Ethereum (ETH) looks as vulnerable compared to Bitcoin (BTC) as it does compared to the US Dollar (USD). The strong resistance seen on the ETH/BTC weekly chart at 36,079 satoshis has not been breached so far. So, there is little to no reason for the bulls to celebrate victory just yet. On the very contrary, if ETH/BTC closes the week below this resistance level, we could see a sharp decline to 7,317 satoshis. This decline is very probable and in fact mandatory for ETH/BTC in order to find its true bottom. Without a decline like that, a trend reversal is extremely unlikely.
We have seen a lot of positive developments with regards to Ethereum (ETH) in the recent past. SEC's stance on Ethereum (ETH) has been very positive and expectations regarding the Constantinople upgrade are encouraging. However, it is important to realize that such developments do not necessarily point to better prospects for Ethereum (ETH) from an investment standpoint especially in the near future. In fact, they should be taken as positive indicators for the long term growth and development of the Ethereum blockchain and not as signs of a trend reversal in the price.