Ethereum Classic (ETC) is a promising blockchain with a lot of potential. In fact, technology wise it is not much different than Ethereum (ETH) and it has a fixed supply like Bitcoin (BTC). The price is currently trading slightly above the 61.8% Fibonacci extension level, but if it slides below it like we expect it to during the upcoming correction, the end result of such a decline would be ETC/USD at $1! To think that we can buy a cryptocurrency like Ethereum Classic (ETC) for one dollar goes on to show how far this bear trend has gone. When it comes to investing in cryptocurrencies, some investors look for coins that will make a quick short term gain but others look for better long term investments.
If we take Ethereum Classic (ETC)'s previous trading history into account, it has not been a very promising cryptocurrency from an investment standpoint. In fact, it lost out on most of the gains made during different bull cycles. This led to ETC/USD being increasingly perceived as a scam or a dead coin that people were only interested in getting rid of. Well, for a time it might have been true because the Ethereum (ETH) hard fork left a lot of people with big bags of Ethereum Classic (ETC) which they wanted to cash out at as high a price as possible because they had no reason to believe Ethereum Classic (ETC) would survive. When most of the miners and developers switched to the new chain (ETH), it was unclear what the fate of Ethereum Classic (ETC) might be.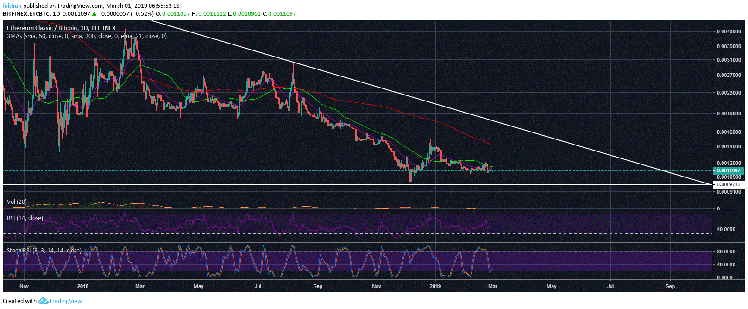 Chart for ETC/BTC (1D)
However, fortunately for those that believe more in the principles and values that cryptocurrencies and blockchain technology stand for instead of their investments, early developers continued to work on Ethereum Classic (ETC) anyway because they believed in decentralization and immutability. Initially, ETC development teams did not care much what the crypto community thought of them. It was a project for people who held principles above financial gains and they wanted to keep it alive no matter what. However, soon afterwards when all the selling and dumping of ETC bags was over, there was a wave of new interest in Ethereum Classic (ETC) but the teams did not capitalize on it as they should have.
Lack of direction and visible progress resulted in Ethereum Classic (ETC) continuing to lag behind until recently. The Digital Finance Group with the help of other silent backers helped pushed ETC Dev out and replaced it with ETC Labs. We do not know yet how thing will play out long term and whether ETC Labs would be able to preserve the principles of immutability and decentralization that ETC Dev fought so hard for. However, we do know that ETC Labs is more focused on visible progress than ETC Dev. They have rolled out an ambitious program that has seen a lot of new startups build new Dapps to support the ETC ecosystem. Given this change in priorities, we believe that Ethereum Classic (ETC) might be a good investment long term especially if you accumulate around $1!