Cardano (ADA) is poised for its biggest move in months. The price broke above its historical trend line resistance in December, 2018 but the price did not react as aggressively as the market was down. Since then, ADA/USD has been trading sideways for the most part with limited moves to the upside followed by moves to the downside. However, this time the price has declined significantly to its trend line support and the near term outlook is more bullish than it has been in months. The 50 day moving average has come extremely close to the 200 day moving average which means the next ADA/USD rally to the upside has a strong probability of triggering a golden cross.
If Cardano (ADA) succeeds in triggering that golden cross during its next move to the upside, we could see a sustained rally that should see the price rise towards $0.1 in the weeks ahead. Cardano (ADA) is a very promising project with a lot of potential and investors have long been waiting to see the price descend to such low levels where they can accumulate. The price is currently down more than 5% for the day which present a very good opportunity for accumulation. The daily Stochastic RSI as well as the RSI for ADA/USD shows that the price is ready for a strong move to the upside during the next rally. Cardano (ADA) was in the spotlight during most of 2017-18 but during the past few months we have seen the market ignore it.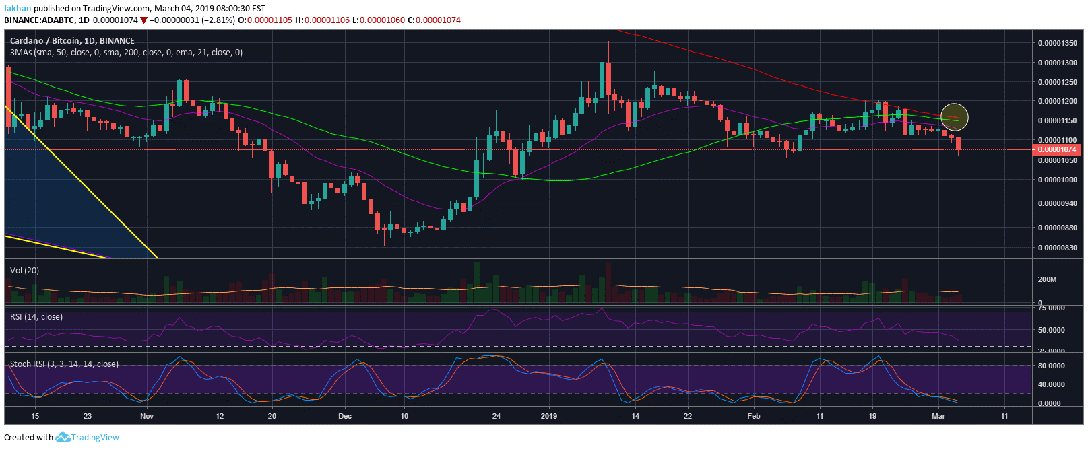 Chart for ADA/BTC (1D)
Projects like Zilliqa (ZIL) seem to have taken Cardano (ADA)'s place and have received most of the attention that used to be directed towards Cardano (ADA). However, one thing we have seen in this market is that the whales take turns with different cryptocurrencies to make consistent gains. For instance, they did this with Stratis (STRAT) in the past, now it is more like a forgotten project. Then they did it with Verge (XVG) which received a lot of attention and then was suddenly not heard of anymore. Recently, they have been doing it to Zilliqa (ZIL) so much so that the cryptocurrency is now heavily overbought. Amid all the pumping and dumping, people have forgotten about projects of real value that have the potential to stay relevant in the market long term.
There was a time in this market when you could have invested in anything and expected a huge return on investment. Maybe that period is still not over yet but we are increasingly heading towards market maturity when all the weak projects will be shaken out and those that can prove that they are actually doing something of value will stay. Cryptocurrencies like Verge (XVG) that have little to no reason to exist in the presence of a strong competitor like Monero (XMR) especially when they have nothing new to add will soon be wiped off the market. When that happens, only projects like Cardano (ADA) that are focused more on applications of the blockchain rather than the blockchain itself will succeed.