Bitcoin (BTC) bears are eagerly waiting of the price to fall again but the daily chart for BTCUSDShorts is telling us a different story. Even though BTC/USD is overbought on the daily and weekly time frames, it does not mean that the price cannot rise further especially when the number of margined shorts is this high. BTCUSDShorts has been rising steadily over the past few weeks as a growing number of bears expect the price to fall sometime soon. However, most of them are going to be in for a big surprise when the price does the exact opposite of what the majority expects it to do. This is not something new and it has happened over and over again. However, most traders are too biased and too impatient to realize this.
The daily chart for BTCUSDShorts alone shows us exactly what is going on and how it is going to end. We do not need to look at the BTC/USD chart or any volatility or market cap charts to figure out what is going to happen next. The majority is always wrong which is why it always loses money. Only a small fraction of disciplined and patient traders that do not have any concern for emotions, make consistent profits in this market. The number of margined shorts has topped out which means they are going to decline in the days ahead. Now, BTCUSDShorts is not going to decline because the bears will realize that they have overplayed their hands so they will start closing their positions. No, this is not how it works most of the time. Bitcoin (BTC) bears are known to be stubborn traders so most of the time they have to be knocked out of their positions.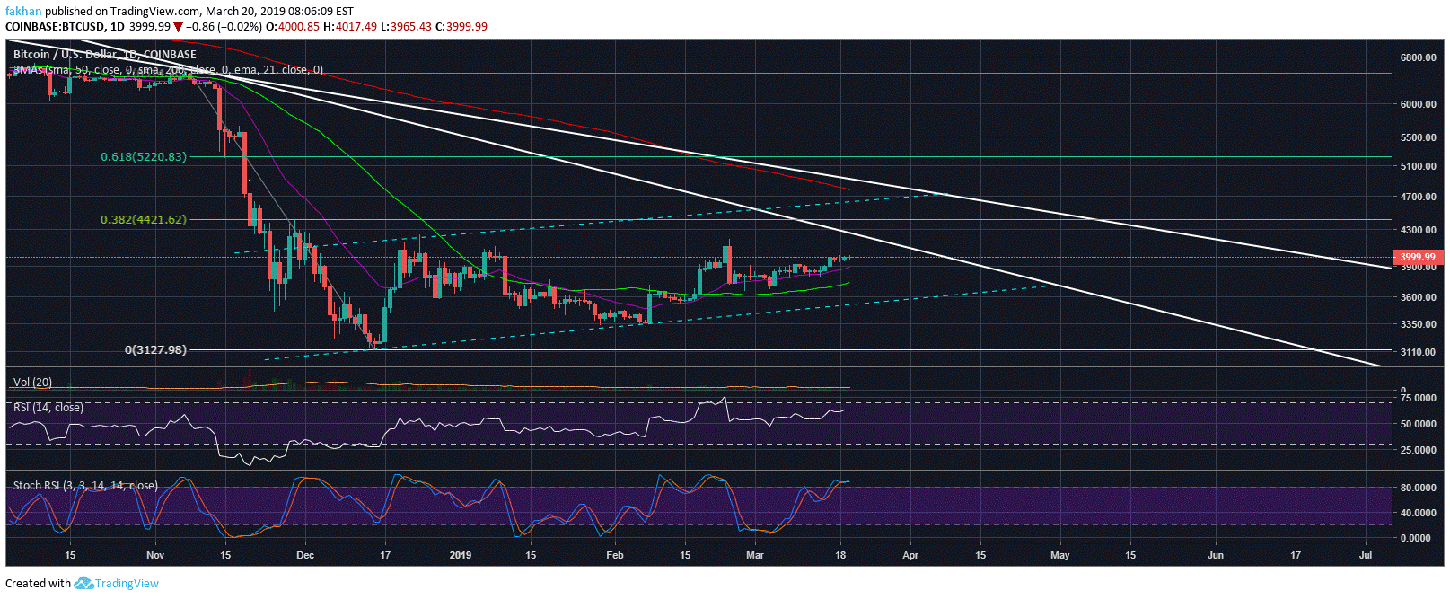 The majority of the margined shorts that we see on the daily chart for BTCUSDShorts were opened last week. This goes on to show how impatient the majority of retail traders are. Considering that most of them opened their shorts last week, they are now anxiously waiting for the price to decline. Now, if the whales are looking at this chart for BTCUSDShorts which I assure you, they are, they are thinking only one thing and that is how to topple this house of cards. The easy way to do that is to pump the price slightly to the upside which would hit some overly aggressive margined shorts that will translate in a subsequent move to the upside which will scare some more bears which will in turn trigger some panic selling and the whole thing would collapse in no time.
If we look at the daily chart for BTC/USD and compare it to the daily chart for BTCUSDShorts to analyze the relationship between the two, we can see that every single time that BTCUSDShorts has topped out, we have seen a strong rally in BTC/USD in the days ahead when the number of shorts starts to decline. There is no reason to believe the same is not going to happen this time because markets are moved by simple supply and demand no matter how much we overcomplicate things. The price of Bitcoin (BTC) is clearly overbought short term but that does not mean that it has topped out. As we can see, the price is very likely to shoot up towards the 38.2% Fib retracement level to complete the bear flag. This move will most likely be a quick one and it will be paid for by the bears.