Bitcoin (BTC) is trading just below $4,000 and eyes a retest of the trend line resistance. Overbought conditions on the daily time frame have once again become favorable for a rally to the upside. However, the price is extremely unlikely to break out of the symmetrical triangle this week. The daily chart for BTC/USD shows that we might see a retest of the 21 day exponential moving average before the weekly close. The price could fall further to retest the 38.2% Fib level but it is still expected to be in a position for a quick rally towards $4,500 before the long anticipated final decline sets in. It is important to note that a break above the symmetrical triangle would mislead a lot of investors into thinking the bear trend is over. However, we have yet to see some confirmations on larger time frames before we can conclude that.
The price has been forming higher highs and higher lows in the past few weeks but as long as Bitcoin (BTC) remains below the previous market structure around $6,000 the risk of a fall to lower levels continues to loom over. Considering that the weekly trading conditions are overbought and unfavorable for Bitcoin (BTC) in the near future, we do not believe that Bitcoin (BTC) has already bottomed. In fact, we believe BTC/USD has yet to find its bottom between $1,000 and $3,000. One thing we have observed in this market is that everything is in very early stages so whenever investors make moves, they leave traces that are relatively easy to spot. This is because a small group of people still control most of what happens in this market and they do not change their methods too often.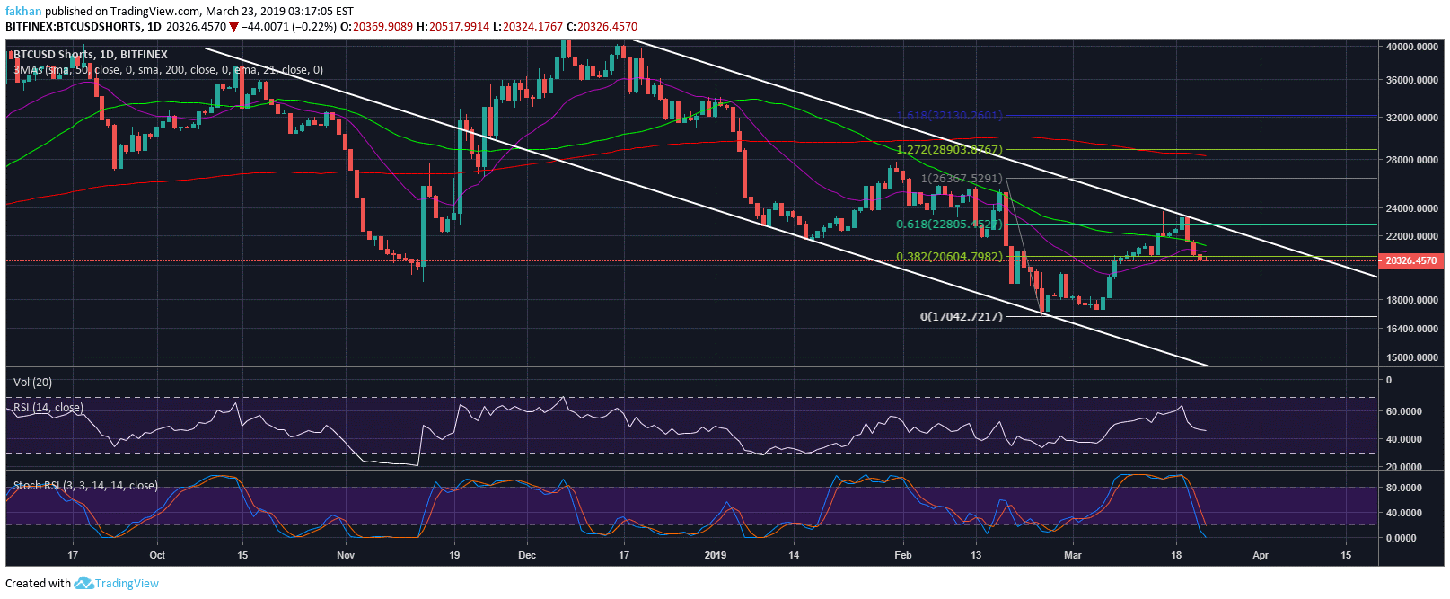 If we look at the daily chart for BTCUSDShorts, we can see that the rise and fall in the number of margined shorts has had a strong impact on the price of Bitcoin (BTC). Whenever the numbers of margined shorts peaks out, we see Bitcoin (BTC) rise and whenever the number of margined shorts bottoms out, we see Bitcoin (BTC) fall in the days that follow. If we combine that with trading conditions and indicators on BTC/USD, we can get some very meaningful insights regarding Bitcoin (BTC)'s future price action. BTCUSDShorts closed below the 38.2% fib retracement level yesterday and confirmed a bearish continuation.
There is little doubt regarding Bitcoin (BTC)'s next course of action as everything falls into place. The number of margined shorts is expected to decline next week which means the price of Bitcoin (BTC) will rise during that time to rally towards $4,500. When the number of margined shorts bottoms out and reaches the bottom of the descending channel, we can expect BTC/USD to begin its final decline. It is important to note that BTCUSDShorts is currently oversold on both the daily as well as the weekly time and it is only a matter of time before the bears assume control again to pull Bitcoin (BTC) towards its true bottom.