Scientists from Google's big data analytics platform, BigQuery have recently taken an interest in Ethereum Classic (ETC). They approached ETC Cooperative's Dev Relations Director, Yaz Khoury who later spoke to media outlets in detail. The purpose of this analysis is not to go into details of how Google plans on using Ethereum Classic (ETC) but to understand why Google may want to do that. In the crypto community, Ethereum Classic (ETC) is still considered a useless coin by the majority. So, what might Google want to do with a useless coin? Why did they feel the need to integrate it in one of their data analytics platforms? To answer those questions, let us analyze what ETC/USD has been through in the past few months and why everything that happened in the recent past was actually a blessing in disguise.
The first and foremost prerequisite for the development and growth of any blockchain is for new developers to have a direct line to core developers. For instance, if someone wants to build a Dapp on Ethereum Classic (ETC) in the Internet of Things (IOT) space, they would want to be able to seek help from the core developers on that blockchain. No such arrangement was in place until recently. The development on Ethereum Classic (ETC) was spearheaded by one core team, ETC Dev and they were free to do as they chose without having to be unanswerable for their actions. For instance, several important commitments on ETC's official roadmap were carelessly ignored during the previous regime. One of those commitments was full IOT Compatibility by November 30, 2018. A few weeks to the deadline, the ETC Dev founder said on Reddit that this event had already been postponed at the beginning of the year.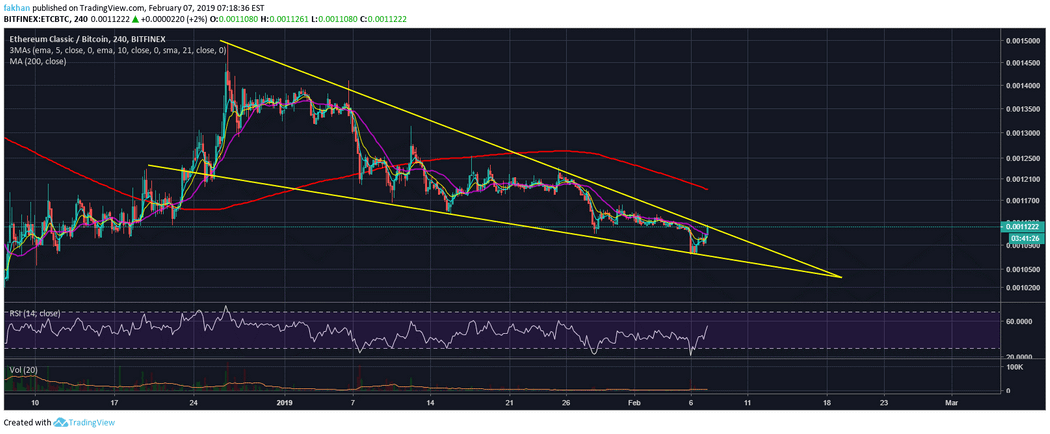 Chart for ETC/BTC (1W)
The ETC Dev Team ignored delivering on community expectations many a time and the Digital Finance Group mentioned it in their famous statement that explains the reasons of their actions. Soon as they pushed ETC Dev out, they created ETC Labs and ETC Labs Core both of which are determined to building projects on the Ethereum Classic (ETC) blockchain that meet community expectations. One of ETC Lab's startup, OriginalMy has previously been a part of Google's Startup Residency Program. Ethereum Classic (ETC)'s focus on an immutable and decentralized ecosphere is likely to attract a lot of other likeminded startups to build on ETC in the near future.
Ethereum Classic (ETC) is still worth almost 27 times less than Ethereum (ETH). Both blockchains are similar in a lot of ways and in some ways Ethereum Classic (ETC) is even superior, but Ethereum (ETH) has achieved widespread adoption and has seen thousands of startups hold their ICO on this blockchain which has led to additional funding and more interest in the Ethereum (ETH) blockchain. Considering the pace of development on Ethereum Classic (ETC), we believe that this difference in market cap will soon be bridged. As Ethereum Classic (ETC) grows to become a more stable and mature blockchain, we will see its focus on immutability and decentralization give it an edge over Ethereum (ETH) when it comes to adoption by big corporations like Google and Amazon.