Bitcoin (BTC) has been trading sideways for a long time now despite strong bullish indicators that should have led to a move to the upside by now. If we look at the daily chart for BTC/USD, we can see that Bitcoin (BTC) has been trading inside a symmetrical triangle since November, 2018. However, if we look closely, we can see that the price is also trading within a bull flag as well as a falling wedge. The price seems to have run out of room to trade within this falling wedge and is now expected to break out of it. However, so far it does not seem that Bitcoin (BTC) is ready for a move. Whichever way Bitcoin (BTC) breaks from here, one thing is clear that the move will be decisive and it will determine the direction for the months ahead.
Before we get to why we think Bitcoin (BTC) has not broken to the upside yet, let us think about why it should have broken to the upside. While most of us are focused in on cryptocurrency charts, there are other developments going on in financial market that have a strong impact on the price action of cryptocurrencies. One of such developments was that the S&P 500 was at risk of closing below the 21 Month EMA. Had that happened, we would have seen a Kiss of Death Signal and February as well as the months afterwards would most likely have been bearish months for the stock market. Considering the level of investors' expectations, the bar is set pretty low and most people expected something like that to happen.
The fact that it did not happen has left a lot of people confused at the moment but they will soon put all this behind them as the market recovers. Why? The bar is set too low! When the market exceeds those expectations, people are once again going to overreact and FOMO into the market. So, what does it mean for Bitcoin (BTC) and cryptocurrencies? Well, believe it or not, there is a move towards naturalization of cryptocurrencies as we have seen in the shift towards Security Token Offerings (STOs). Now that the useless debates around whether cryptocurrencies have a future or not is over, the people who have been calling Bitcoin (BTC) a scam or a useless digital token with no intrinsic value are going to pave the way for mainstream adoption.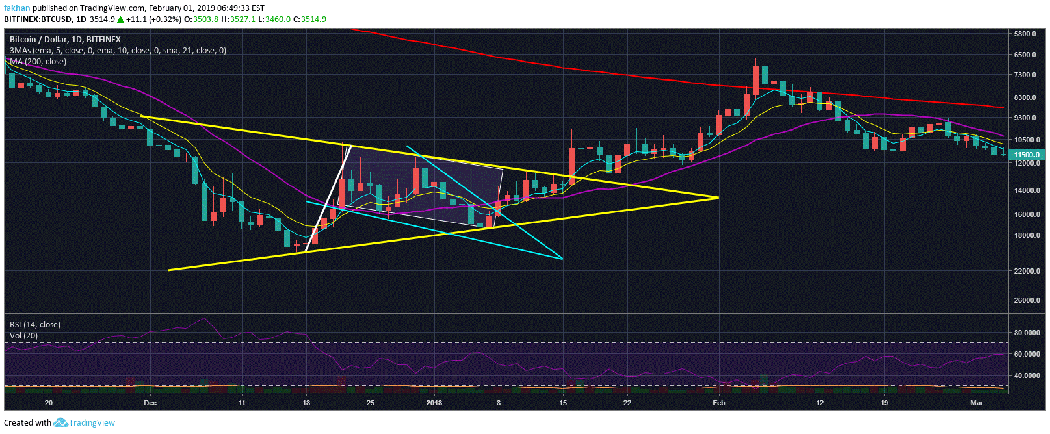 Now, a question arises that if market conditions remain as they are, why would people venture into such risky assets. Well, I believe that in the state we are currently in, the Fed has no options but to renege on its interest raise commitments. As the rates currently stand, we might even be able to see negative interest rates even though it would seem surprising to most people at this stage. This is the way it has to happen for cryptocurrencies to get a piece of that never ending paper money supply. With NYSE, Baakt, Fidelity, TD Ameritrade and other important players venturing into this space, it is not going to take much to pump up this $100 billion dollar market.

We now know why cryptocurrencies should rise, so now the question is, "Why haven't they already?" The best way to explain that is to look at the inverted daily chart for BTC/USD. If you compare this chart with the one on top, you may not be able to tell the different at first glance. Both look incredibly similar and why shouldn't they? The first chart is of the bottom and the second is of the top inverted which again should look somewhat like the bottom. In this case, they look far too similar but that's not what we are interested in. We already know the bottom is either in or very near, so how to tell when BTC/USD would actually be out the woods? If we look at the second (inverted BTC/USD) chart, we can see that the price shot up after breaking out of the falling wedge. Then it traded along the 21 Day EMA to reach the top of the symmetrical triangle after which it eventually broke out and formally began a new trend. Barring extenuating circumstances, the same pattern is extremely likely to repeat this time.