Stellar (XLM) has been through one of the most brutal corrections in this market since the beginning of this year. It is one of the few cryptocurrencies that has now plunged below its December, 2018 lows while trading inside a falling wedge. This may be alarming for mainstream investors who give in to emotions and short term sentiments instead of fundamentals and technical analysis. However, professional traders who understand the people, product and process behind Stellar (XLM) see this as an opportunity to accumulate. This is why XLM/USD has remained firmly inside the falling wedge and not broken below it despite piercing through some critical supports. Stellar (XLM) now has a long way to go before it catches up with the rest of the market. However, it is running out of room for continuing further within the falling wedge.
The daily chart for XLM/USD shows that the trend line resistance that Stellar (XLM) has been testing continuously since November, 2018 is now at the risk of being broken. Once XLM/USD breaks past this resistance, the sentiment will turn from bearish to bullish no time. This is because most investors in this market are bullish long term even if they are bearish short term. The main reason most of them are bearish short term is because they lost money in the bear market or they are still holding most of their coins at a loss and they want to get a better average. In other words, the majority is bearish only because it wants to buy more. As for Stellar (the organization), it has been hiring throughout the bear market while other blockchain projects were letting people go because of funding problems.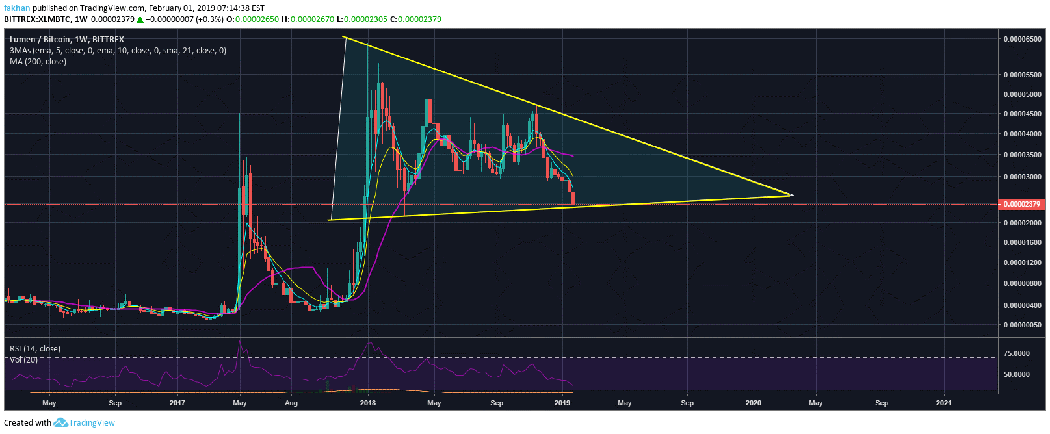 Stellar Lumens (XLM) is poised for a major rally against the US Dollar (USD) but things are looking even better on the XLM/BTC front. In fact, the weekly chart for XLM/BTC shows Stellar (XLM) trading in a major bullish pennant against Bitcoin (BTC) that could break to the upside as early as mid-2019. Even if the price were to continue to trade within the bullish pennant throughout 2019, it will have to break out towards the end of the year. In other words, accumulating Stellar (XLM) throughout 2019 is still a good idea whether it breaks out this year or the next.
Some analysts and industry figures have already predicted that they see Stellar (XLM) and Cardano (ADA) to be among the top gainers during the next bullish cycle. One of such predictions made by Finder.com panelists called for XLM/USD to see the highest growth between January and February 1st but it would appear that the opposite would in fact have been true. Regardless of that, Stellar (XLM) is no doubt a promising blockchain project with strong fundamentals. It is also backed by the likes of IBM and has partnerships with banks like ICICI both which have a large customer base. It would thus not be surprising to see Stellar (XLM) moonshot to new highs even in 2019 once the dust settles.