Ripple (XRP) has finally lost its second spot back to Ethereum (ETH) after holding on to it for the most part throughout the bear market. It is not clear yet whether Ethereum (ETH) might be able to hold to this position for long especially when cryptocurrencies like Litecoin (LTC) and Stellar (XLM) gain more attention in the months ahead. However, Ripple (XRP) seems to have lost it for now and may not be able to reclaim it anytime soon. The daily chart for XRP/BTC does show that Ripple (XRP) has a lot of room for growth yet. The bullish pennant seen on the chart above has been waiting to break to the upside for a long time but sideways movement in Bitcoin (BTC) has been stalling a break to the upside so far.
Ripple (XRP) is just one heartbeat away from breaking past the 21 Day EMA against Bitcoin (BTC). This would pave the way for Ripple (XRP)'s next bull run and the price might see significant growth around mid-2019 during the altcoin season. That being said, a lot of ICO projects on the Ethereum (ETH) blockchain still have better prospects of outperforming both Ethereum (ETH) and Ripple (XRP) in terms of growth during the upcoming altcoin season. However, Ripple (XRP) is one of the best investments in terms of risk/rewards and there is a reason hedge funds like Arrington XRP are so optimistic about its future prospects. Recently, Visa and Mastercard invested in Ripple's xRapid service. There is a good chance that corporations like Visa, Mastercard, Paypal and others would want to put up a final fight with the help of Ripple as services like Coinbase Merchant and Bitpay threaten their existence.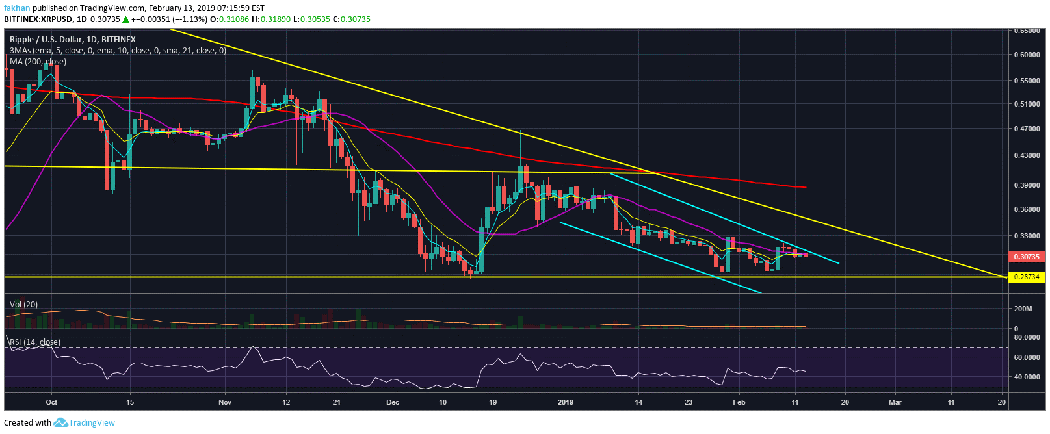 There is no doubt that the world is headed towards a single economy and perhaps a single government if there is such a thing. However, in capitalism money is the government and when that money is global, so is the government. The cryptocurrency market, unlike the NYSE, TSE or LSE is already a global market. Cryptocurrencies from across the globe can be bought and traded on any exchange. Soon we will see traditional companies tokenize their shares. The end result of this transition will be a stark decline in reliance on centralized companies like Visa, Mastercard or Paypal. However, we have a long way to go before that can happen and until that happens; these companies would want to put up a fight with the help of companies like Ripple.
The descending channel that XRP/USD has been trading in since the beginning of this year will is yet to be broken. The price is still struggling to climb past the 21 Day EMA. If it succeeds in climbing above the 21 Day EMA, we could see a break out of the descending channel which means the price will then have to test the next trend line resistance. However, if the price fails to break past the 21 Day EMA and close above it, it is very likely that we will see a fall towards the bottom of the current descending channel to a price of $0.28 or lower.