Ripple (XRP) has finally broken above its 21 day exponential moving average but the momentum that we see is a lot different than what we used to see in XRP/USD. During every market recovery, Ripple (XRP) used to be one of the high achieving coins. That does not seem to be the case anymore as we have seen a clear loss in bullish momentum following the JPM coin announcement. This is very alarming to see when a lot of big banks across the globe are beginning to use Ripple's xRapid service. The effect of those positive developments seems to have been overshadowed by the overhyped impact of JPM Coin. This is a short term setback for Ripple (XRP) investors but things will take a turn for the best once sanity returns back to the cryptocurrency market.
When markets are overly bullish, a lot of investors have unrealistic expectations that call for higher valuation. We saw this during the previous bull market when people were calling for a price of $15 or higher. The same thing is happening here with a lot of people labeling XRP as a scam and a sh*tcoin that has finally been put out of business with the JP Morgan's entry. As ironic as it is to see some cryptocurrency enthusiasts to side with JPM Coin to see XRP fail, it should be borne in mind that people behave unreasonably during unreasonable times. The market is currently overly bearish and so the sentiment is overly pessimistic. A lot of people are pointing out flaws where they do not exist. This is why so many people miss bull runs and buy late into the market.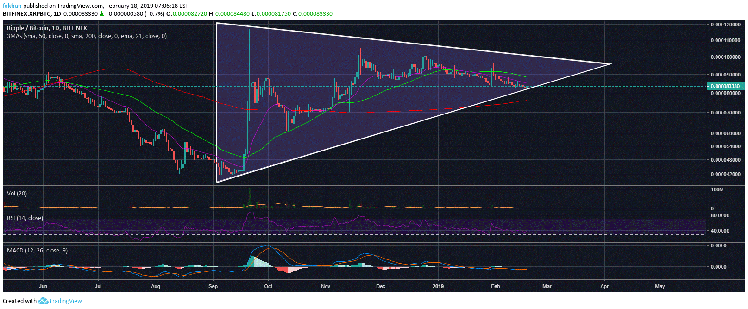 When everything is going well, that is not the time to buy; in fact it is the time to look for selling opportunities. The market is bleeding at the moment which means now is the time to start accumulating. Sure, the price could move down some more but if we take risk/reward into account, this is one of the best entry points. The daily chart for XRP/BTC shows that Ripple (XRP) has reached the bottom of a bullish pennant after facing strong rejection at the 50 day moving average. There is still a good change that the price might continue to fall towards the 200 day moving average. However, if that were to happen, Ripple (XRP) would be at risk of significant further sell off.
Both the RSI and MACD profiles for XRP/BTC show that the price is ready for a big move to the upside. However, as we have seen with Bitcoin (BTC), the price could move sideways for a while before breaking decisively to the upside or the downside. XRP/USD seems to be already in the clear but XRP/BTC is in a rock and a hard place kind of situation. As bullish as the bull pennant is, if the price were to slide down to the 200 day moving average, that would seriously diminish the chances of any bullish breakout for Ripple (XRP). Ripple (XRP) has been a very lucrative investment in the past but after recent developments investors should exercise caution not just for fundamental reasons but for technical as well.