Ripple (XRP) is once again on the verge of a deadly decline that could push the price below its previous low. The probability of such a fall is higher than ever as the price risks forming a death cross in the weeks ahead. If we look at the daily chart for XRP/USD, we can see that the price is trading below the 50 day moving average and the 200 day moving average. Moreover, the Stochastic RSI is trading near its all-time high and so is the daily RSI. In such circumstances, it would be extremely unreasonable to expect the price to break past both the 50 day and 200 day moving averages and form a golden cross. Instead, the most probable scenario will be for the price to remain below the 50 day moving average and eventually break below the triangle.
The last time we saw a death cross, the price dropped more than 66% in the weeks that followed. It is pertinent to note that the Stochastic RSI is at a similar point as it was when the previous death cross formed. Another such decline would undoubtedly push the price below $0.18. Considering that most retail traders have their stop losses around that level, we could see the price decline a lot further when those stops are hit. The recovery from those lows might be quick but the price will still take a long time to get back to current levels after such a devastating fall. XRP/USD has profited off a lack of competition in the cross border payments industry and its promise of capturing a significant portion of the foreign exchange market attracted a lot of investors.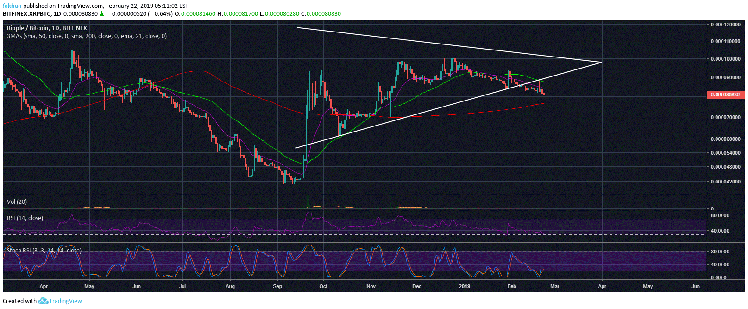 Chart for XRP/BTC (1D)
This level of traction also created some problems for Ripple (XRP). Now, some of those problems like the legal battle with R3 have been resolved for the most part but there are others that pose a more serious threat to the existence of Ripple (XRP) that have yet to be solved. One of such threats is XRP's legal status. Last year, we saw a lot of debates centered on what was and what wasn't a security. Eventually, it became clear that the regulators did not consider Bitcoin (BTC) and Ethereum (ETH) as securities. We do not expect regulatory bodies to out rightly label XRP as a security or a non-security for now but we do believe that some events regarding XRP's legal status could be a possible catalyst for a major drop in the weeks ahead.
It could be the SEC cracking down on Ripple (XRP) in some way or a ruling that poses further problems for the cryptocurrency. If we look at the trading history for Ripple (XRP), we can see that most declines have been triggered by similar events. There is no reason to assume that the future will be any different. The fate of Ripple (XRP) from a legal standpoint is undecided yet and we believe it will continue to remain so for the next few months or years. Judge Hamilton is expected to decide soon whether the case it to remain federal or go back to state. If it goes back to state, the price of Ripple (XRP) is expected to crash hard.