Ethereum (ETH) has remained strong above its trend line support and the price is unlikely to fall further at this point. A rally to the upside is also hard to expect considering the price has failed to capitalize on several attempts to breakout. However, we believe that the price is deliberately being 'maintained' in a sideways movement so the whales can accumulate because the next move is going to be a big one. The price could easily reach a target of $200 if not higher during a correction to the upside. The long term trend line resistance seen on the daily chart for ETH/USD is yet to be broken. That being said, the price is extremely unlikely to fall further without having tested this resistance first.
Even if the price fails to break past the trend line resistance, it will still be able to reach a price of $200. That means that a bullish entry at this point is well worth the risk reward. If the price faces a rejection around $200, traders will know to close their positions. If it continues to climb north of $200, they can leave their positions open till their targets are reached. Either way, this is a favorable point for bullish entries even if ETH/USD has to face a rejection and fall lower to a new yearly low. If the price faces a rejection at the previous market structure that would be a very favorable point for bearish entries because a rejection at market structure would result in the bullish resolve being completely crushed. The bears will then be in charge to do whatever they want with the price.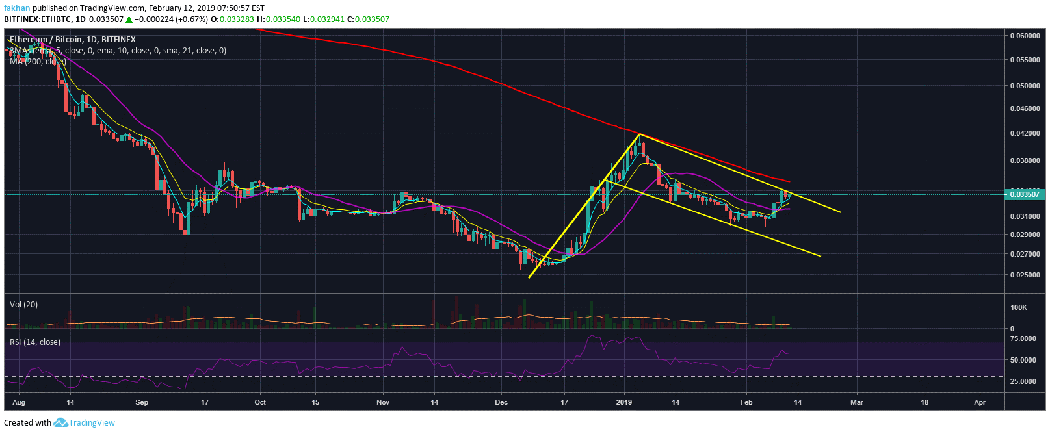 Chart for ETH/BTC (1D)
There are a lot of bears in the market at this point but it is pertinent to note that very few of them are actually long term bears. The majority is convinced that the price of Ethereum (ETH) is expected to rise long term. So, they are only bearish as long as the price remains above their buy targets. Once the price drops to a level they are comfortable to buy, they will turn bullish. Such investors are extremely unlikely to sell in the face of market pressure. They are also unlikely to sell for small profits and will hold on to their coins to ride the next bullish cycle that is about to come.
One of the reasons we are not seeing as much buying and selling as we would like to is because most investors have already run into major tax issues and they do not want to further complicate their situation with buying and selling in an indecisive market. If you buy and hold Ethereum (ETH), you do not have to pay any taxes in most countries. However, the moment you sell your coins into fiat currencies, it becomes a taxable event. This is another reason why most cryptocurrency investors are waiting for the 'perfect bottom' so they can just buy and hold for a long time without having to panic sell.