Ethereum Classic (ETC) is handing by a thread as price trades lightly above the 50 day moving average. This is the only thing between ETC/USD holding its ground and crashing hard to a new low in 2019. So long as Bitcoin (BTC) continues to stall a move to the downside, Ethereum Classic (ETC) is expected to do the same. In fact, if we see consolidation in the next few days, the price might actually take off towards $5 once again but any move to the upside will most likely be short lived and will be followed by a more aggressive move to the downside. Traders might want to wait before opening short positions but long term investors might start accumulating at current levels. Ethereum Classic (ETC) has been in the limelight recently for its aggressive Dapp development program thanks to ETC Labs.
Previously, Ethereum Classic (ETC) used to be more of a "cult coin" with a small but dedicated community. The rest of the market did not care much about what happened to ETC and the only people invested in this cryptocurrency were mostly tech geeks who understood the project and believed in its vision and mission. However, recently, we have seen a trend shift that has seen more people flock towards Ethereum Classic (ETC) for its qualities of decentralization and immutability. The past few months of bear market have exposed some serious cracks in the inner workings of most blockchain projects which have made Ethereum Classic (ETC) more attractive from an investment standpoint.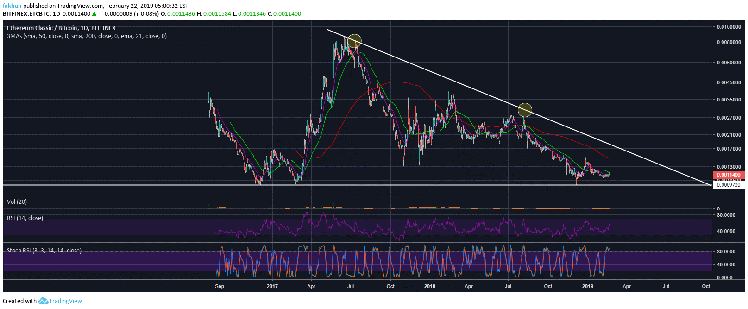 Chart for ETC/BTC (1D)
The race towards decentralization has already begun. Binance just recently launched a beta version of its decentralized exchange. We have many other such exchanges operating with no problems so far. One decentralized exchange had a problem in the past which is why it is not as popular now. The thing is, the future belongs to a decentralized ecosystem in this industry. Projects like Ethereum (ETH), EOS (EOS) and Tron (TRX) are still massively centralized compared to Ethereum Classic (ETC). They are enjoying their current status in the market mainly because of their centralized nature. There are a lot of benefits to centralization from the project's point of view. They can get more things done with little friction and they are in control most of the time. There also avenues for financial gains in such conditions so it is easy for such projects to climb ahead of others and enter the top ten league.
However, centralization works both ways. If a company has built a fortune on a centralized ecosystem, it becomes too difficult to change its modus operandi. In other words, Ethereum (ETH), EOS (EOS) or Tron (TRX) will have a hard time becoming decentralized and immutable compared to Ethereum Classic (ETC). It would thus not be surprising to see Ethereum Classic (ETC) ahead of most of these coins in the decentralization arena in the near future. Experts believe that the next industrial revolution will have IOT (Internet of Things) at its heart. For machines to interact with one another in the absence of a centralized entity there has to be a blockchain capable enough of having a secure and stable blockchain that is also fast, cheap and scalable. We believe Ethereum Classic (ETC) is well positioned to be one of such blockchains.