Ripple (XRP) has been trying hard to break past $0.40 for more than a week now but it has failed so far. The price has run into a strong resistance at the 38.2% Fibonacci retracement level. However, XRP/USD has defended a fall against the 21 day EMA. For the last few days, we have seen Ripple (XRP) rise along with the 21 Day EMA which has made it easier than before to break past $0.40. Ripple (XRP) is at the bottom of the ascending channel it is trading in against the US Dollar (USD). However, the price is ready to take off if it breaks above the 38.2% Fib level. RSI for the daily chart also shows that there is ample room for a rally towards the top of the channel.
The 200 Day Moving Average has served as an ultimate resistance zone for the price of Ripple (XRP). Soon as XRP/USD nears this level, we see the price ultimately fall back below it after putting up a fight for a few weeks. This has consistently happened in October, November as well as December of last year and it is expected to happen in February as well. The crypto market in general and Ripple (XRP) in particular have been overdue for a correction to the upside. However, technical conditions do not support a rally towards a new ATH at this point. This means that the price has room to rally but it will have to retrace and then trade sideways for a long time before it can begin the climb towards a new ATH.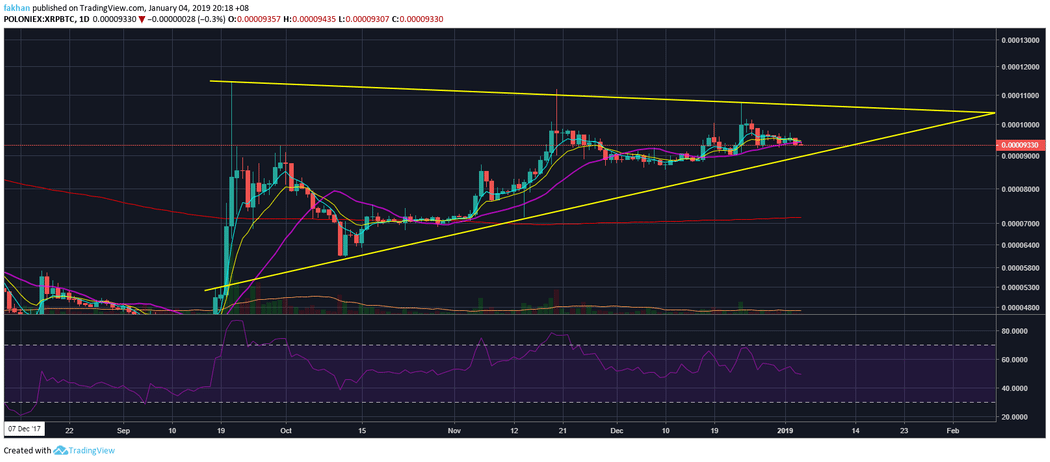 Chart for XRP/BTC (1D)
Ripple (XRP) investors are eager to see the price skyrocket now that the bear market seems to have come to an end. However, it is important to note that there are a large number of XRP bag holders that are just waiting to break even. For them, the price has to reach just near the levels they bought it so they can get rid of the bags they have been holding for more than a year. Now, it is another debate why most such investors would want to get rid of their coins if they have waited so long and already went through a bear market. It is a fact that this kind of behavior occurs after a bear market. It is quite surprising to see how this happens over and over again during every market cycles, but this is human psychology and we will continue to see all of this happen over and over again.

There are certain key levels where most of these bag holders are likely to sell. A lot of Ripple (XRP) investors and current bag holders bought between $0.8 and $0.6. Now, most of them are relatively stronger hands so we are not going to see too much selling in this zone but it will be significant nevertheless. The next zone is between $1 and $2 which is again going to result in a lot of break-even selling and profit taking. That being said, this is one of the best times to invest in Ripple (XRP) considering that the price is cheap and the prospects are brighter than ever.