Ripple (XRP) is once again the second largest coin by market cap. The past few weeks have been somewhat bullish for Ethereum (ETH) due to the hype surrounding its upcoming hard fork. This was what resulted in Ethereum (ETH) cutting XRP/USD to size after allowing it to remain on the second spot for weeks. However, soon after the hard fork delay, we have seen ETH/USD decline and now Ripple (XRP) seems to be in a better position to continue to remain as the second largest coin by market capitalization. The compound effect of the growing number of partnerships and upcoming announcements cannot be downplayed. In fact, these factors are so strong that some analysts believe Ripple (XRP) might even surpass Bitcoin (BTC) in market cap.
Such a statement would have appeared ridiculous a few months back but today in light of all the developments in the cryptocurrency space as well as global markets has convinced many that this could be a possibility. The fact that financial intuitions with billions of dollars in assets under management are cozying up to Ripple for XRP adoption and use is a strong reason that Ripple (XRP) might reach a double digit price in the months and years ahead. Even if Ripple (XRP) does not succeed in surpassing Bitcoin (BTC), it is still very likely to retain second spot in terms of market cap. While Bitcoin (BTC) is considered to be digital gold in the crypto community and outside, Ripple (XRP) could soon become digital money. This is helped by the fact that XRP transactions are a lot cheaper and faster than that of Bitcoin (BTC) or Ethereum (ETH).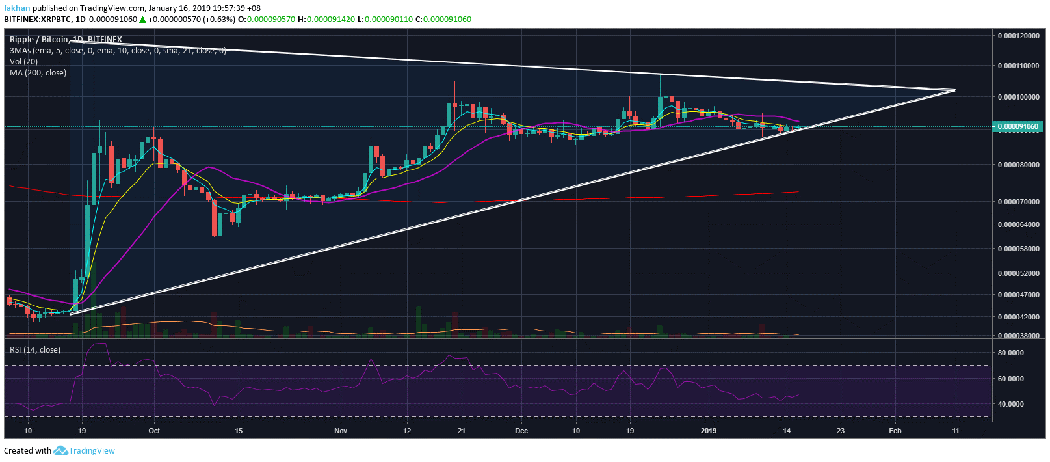 So, Ripple (XRP) is poised for a big rally against the US Dollar (USD) but that is not all. The XRP/BTC chart on the daily time frame shows us that Ripple (XRP) has just touched the bottom of a bullish pennant which means it is poised for a rally in the days ahead. As XRP/BTC trades further down this pennant, the chances of a break out keep on increasing. Sooner or later, the price will have to break out of this pennant to continue rallying to the upside. XRP/BTC is still trading below the 21 Day EMA which means it will face some resistance to break out but it has to make a decisive move before March, 2019.

The daily trading volume has also dropped so much that a move to either side cannot be ruled out. Such a move will be very quick one and can be triggered quite easily by a few big players in the market. While such a move of manipulation could mislead retail traders into thinking a major pattern has been invalidated, it needs to be understood that at this point, the whales are desperately trying to accumulate cheap XRP before the next rally. Therefore, they are going to use all the ploys and tricks in their books to manipulate unsuspecting traders and investors into selling their XRP just before the next big run.