Litecoin (LTC) is trading in a tight range just above $30 and below $34. The price has traded in this range for the most part since beginning of the year. However, the 4H chart for LTC/USD shows that we might be close to a break above $34 in the weeks ahead as LTC/USD is poised for a break out towards the top of the ascending channel it is trading in. RSI on the 4H timeframe shows that there is room for significant correction to the downside should the price fall below this ascending channel. However, the support at $29.56 is a strong one and unlikely to be breached anytime soon. The sentiment at the moment is overly bearish and most investors are expecting the price to decline below $30.
As we have seen in the past, when the majority gets too comfortable expecting something to happen, the exact often usually happens in financial markets. This is why the majority always loses whereas the small group of professional investors acting out of logic and reason instead of emotions always come up on top. Most professional traders are very ruthless and they do not care about sentiment nor do they get attached to a particular cryptocurrency. However, when they realize that everybody expects the price to fall but there is not enough to sell, that is where they start accumulating. The exact same thing is happening at this point aptly demonstrated by the sideways movement in LTC/USD.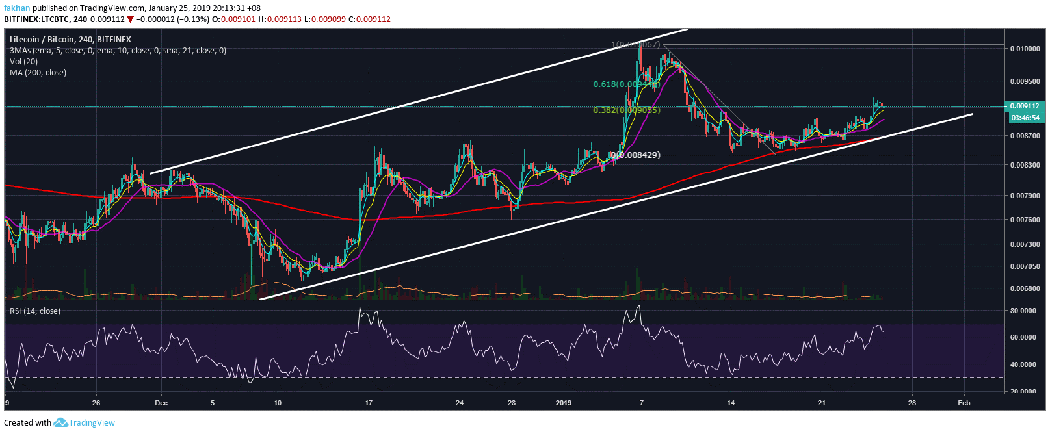 Soon as the price breaks above $34, it will have no major resistance to slow it down from rallying towards $45. It is pertinent to note though that Litecoin may not have actually bottomed yet. However, the price does have significant room to trade to the upside near term. We might see it continue to trade in this ascending channel to reach a price of $100 or higher somewhere around mid-2019. That being said, the prevalent bearish sentiment is going to take a long time to subside. In the absence of an ETF or other sophisticated investment vehicles, institutional investors are not likely to step in. This is because unlike retail traders, institutional investors do not care about seeing cryptocurrencies succeed. They also cannot afford an invest and hope approach that most retail investors have towards cryptocurrencies.

For institutions to get into the space, we will need to have advanced tools and markets where they can hedge their bets and protect their downside because unlike most retail traders, institutional traders have to answer to clients. That being said, when they do get into the game, cryptocurrencies like Litecoin (LTC) are likely to be a part of their portfolio mainly because the level of safety and high liquidity that comes with it. At this point, Litecoin (LTC) seems to have found a local bottom against Bitcoin (BTC) and is on track to resume its rally in the weeks ahead. The weekly chart for LTC/BTC shows that the price is trading just above the 38.2% Fibonacci retracement and is expected to climb towards the top of the channel soon as the market begins a correction to the upside.