Ethereum Classic (ETC) has remained strong above the trend line support. For a cryptocurrency that just suffered a 51% attack, this is some solid resilience. It is like Ethereum Classic (ETC) community has not been affected at all by the recent attack. They are still loyal to the cryptocurrency which is why it loses the least after Bitcoin (BTC) and stable coins during a market crash. We have seen this pattern repeat over and over again. Ethereum Classic (ETC)'s community appears to be more loyal than the Ripple (XRP) community. The difference is that the ETC community is a lot smaller than the XRP community. ETC/USD is ready to test the 5 Week EMA this week and it is likely to break past it.
RSI for ETC/USD is also close to oversold territory on the weekly chart. It has also broken a critical downtrend which means the price has either bottomed out or is very close to bottoming out. Either way, for those who believe in the long term prospects of this cryptocurrency; this is the best time to start accumulating. Ethereum Classic (ETC) is an interesting investment from multiple perspectives. First of all, it has a limited supply like Bitcoin (BTC). Second of all, it is extremely undervalued at the moment. Third, the sentiment towards Ethereum Classic (ETC) is the most negative it has ever been. This means that if ETC Labs turns out to be a success, Ethereum Classic (ETC) would be a promising investment in the future.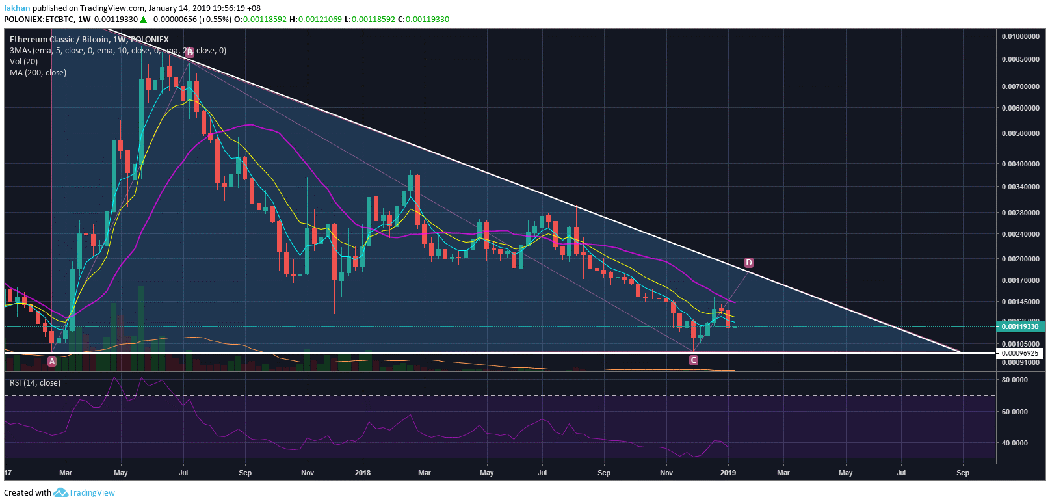 Chart for ETC/BTC (1W)
The past few months, Ethereum Classic (ETC) has gained a lot of traction in connection to its IOT (Internet of Things) use case but recently all of that seems to be falling apart. In all fairness, there does not seem to be an organized effort to work towards those objectives. This is what differentiates Ethereum Classic (ETC) from Ethereum (ETH) and this is why the 51% attack occurred. To be fair to Ethereum Classic (ETC) though, this is how most decentralized blockchains and networks work. The teams can coordinate among themselves but there is no central body that oversees the whole project, pretty much like Bitcoin (BTC). This could be one of Ethereum Classic (ETC)'s major strengths in the future but right now it is one of its biggest weaknesses. In fact, someone needs to asset enough control to at least keep the teams together and ensure that they are working towards the objectives.

ETC Labs was launched with a lot of enthusiasm but so far there has been no update on their official Twitter account in weeks! Most of the tweets from Ethereum Classic (ETC) official account are redundant and post the same things over and over again. While there are some projects like Golem (GNT) and Lisk (LSK) that have thrived during the bear market, the majority has suffered enormous losses, but then again if everything was hunky dory, Ethereum Classic (ETC) would not be trading below $5 per coin.