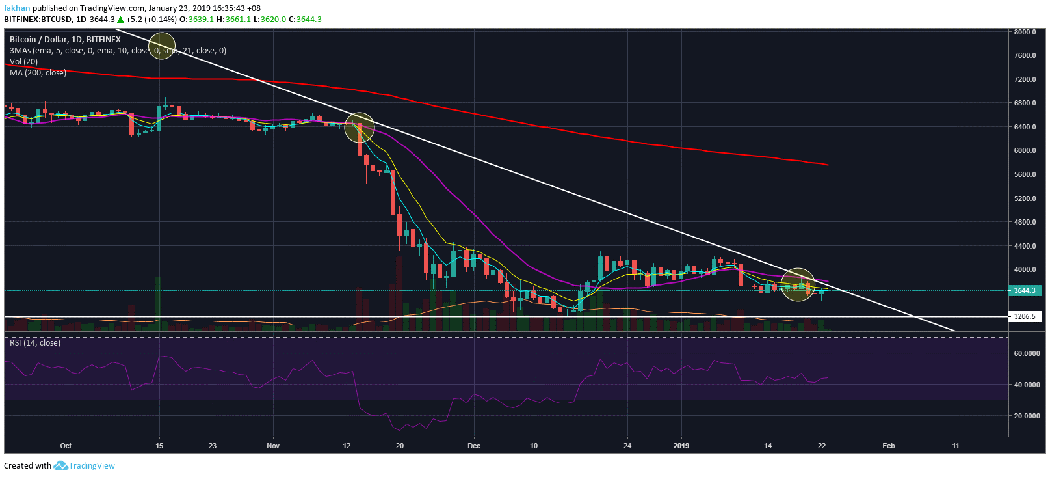 Bitcoin (BTC) has once again run into its downtrend resistance and is thus at risk of further selloff. This has already happened thrice in the past few months. Bitcoin (BTC) fell and closed below the 21 Day EMA in November, 2018 and crashed hard in the weeks that followed. The price is once again at a similar point and is about to test the 21 Day EMA. If it faces rejection this time, the price could drop once again and may trigger further sell off. However, we have reasons to believe that the price may not drop with the same intensity as before. This is because Bitcoin (BTC) has now found a strong support above the 200 Week MA and is ready to break out of the downtrend.
It is interesting to see that the number of people calling for a fall below $3,000 is actually a lot higher than the number of people calling for a drop below $6,000. Very few people expected BTC/USD to break below market structure but it did. However, soon afterwards everyone started calling for a fall to $2,000 or even lower levels. This is a true demonstration of herd mentality at work. The majority is always wrong in financial markets. Just as everyone expected Bitcoin (BTC) to shoot straight towards $50,000 when it was trading around $17,000, at this point everyone is expecting the price to fall towards $1,500. Well, they wish to see the price around such levels because they want to buy more as they believe that the price would eventually reach a new all-time high.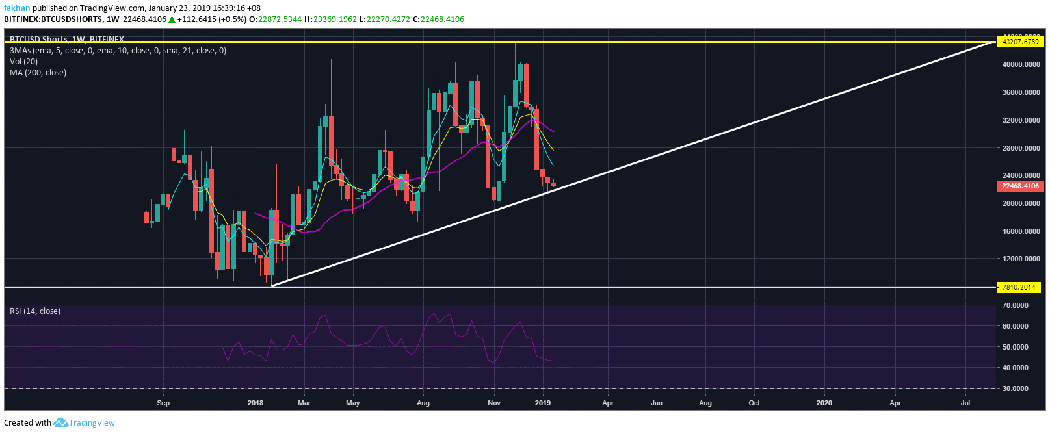 There may be a large number of people wishing for the price to fall but there is a very small number of people who are willing to sell at these prices or bet money on the price falling from current levels. The weekly chart for BTCUSDShorts shows that the number of shorts has been in a steady decline since the beginning of the year. However, the trend line support has yet to be broken. This means that technically there is still room for increased bearish pressure in the weeks ahead even though ground realities dictate otherwise. The global economy is in shambles and countries across the globe are running away from banks and centralized currencies.

Bitcoin (BTC) transaction volume has just reached all-time high in South America thanks to failing economies like Venezuela and Argentina. The same is true of countries like Iran where sanctions and bans coupled with failing government policies have made the national currency prone to wide fluctuations. Under these circumstances, Bitcoin (BTC) is better positioned than Gold or any other commodity for that matter to become the one global currency that people across the globe can unanimously use to replace their local currencies. With the stock market in turmoil and the S&P 500 at risk of printing a kiss of death pattern, we could see Bitcoin (BTC) rocket towards its previous all-time high a lot sooner than the majority expects.