Ethereum (ETH) rally has come to a halt after the price faced a strong rejection at the 61.8% Fibonacci retracement level. This resistance was expected to hit ETH/USD hard because it could push the price into a descending channel. As we can see, this resistance level at $140.93 has now become a confluence of resistances. Apart from the Fibonacci resistance, there is another strong support turned resistance. When Ethereum (ETH) fell below the trend line (shown in yellow) around 27th Dec, this support line turned into a resistance line. The price has struggled to break past this resistance line in the last 48 hours but it has failed miserably. Yesterday's rally that saw ETH/USD rise by almost 20% could not continue past this resistance.
The RSI for ETH/USD on the 4H timeframe is now close to overbought territory. ETH/USD could make an attempt to break past the 61.8% Fibonacci retracement but it is highly unlikely to close above it on the daily time frame. Given the conditions that hinder Ethereum (ETH)'s rally past $140.93, it is thus reasonable to say that now is not a good time to be buying Ethereum (ETH) from a risk/reward standpoint. The price could still rally one last time to retest the 61.8% Fibonacci retracement level again which means now is not a good time to go short either. There is a popular saying in the financial sector, a principle that most professional investors abide by, that you should buy when there is blood on the streets even if the blood is your own.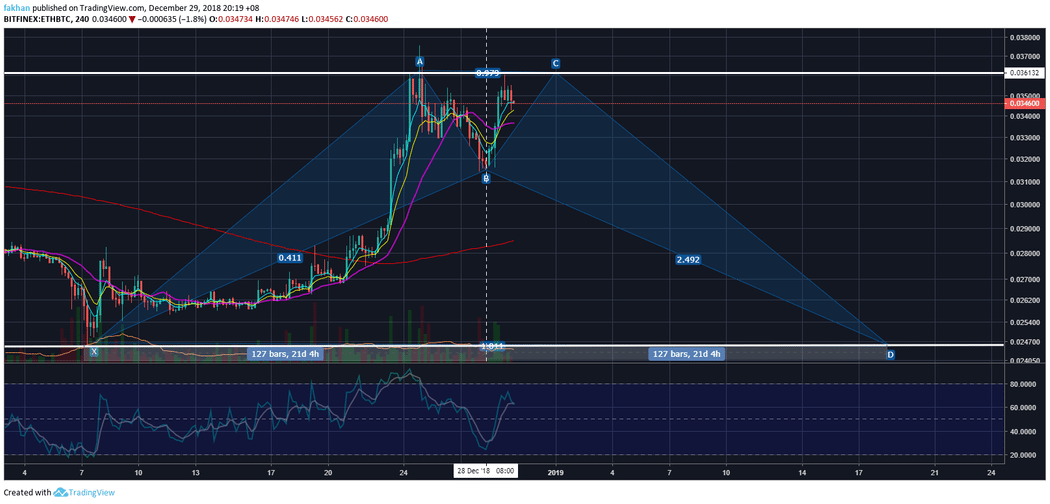 Chart for ETH/BTC (4H)
Now, that is true and it works all the time but you need to know for sure whether you are interested in trading Ethereum (ETH) or investing in it. If you are doing the former, this would be a terrible time to buy because the price is more likely to come down than go up. If you are investing, the only reasons you would want to buy at current prices is that you do not want to risk entering at a higher price than this if the ETH/USD rallies instead of going down or you know that you may not be able to get all your orders filled if the price falls, so you start buying some at every minor dip.

In both cases, you know what you are doing and you are fully aware that the price could come down after you have bought. If you are a retail investor, there is not much you can do about it because you have already made your peace with that possibility. If you are a professional investor, you use different financial products and instruments to minimize your risk. However, even in this case you are prepared for both outcomes because it is a game of probabilities. Predictions do not work in this market unless you have information that others do not have access. Good investors or traders use those probabilities such that they gain the most when they are right and lose the least when they are wrong.